The Sunday night of 22nd of March, proved to be a dark and bleak one. The black horde of the Disciples of the Void tour passed by Arnhem and lit the place on fire with unholy rituals.
Due to heavy traffic, I missed most part of the
Irkallian Oracle
show. Only saw the last few songs of the powerful show. This band knows how to produce a certain vibe with their music. They perform their stuff as a ritual, with black robes, incense and an altar. This Swedish band sounds a lot like Portal, but not as disturbed and heavy as their bigger Australian brother. None the less, intense, dark show.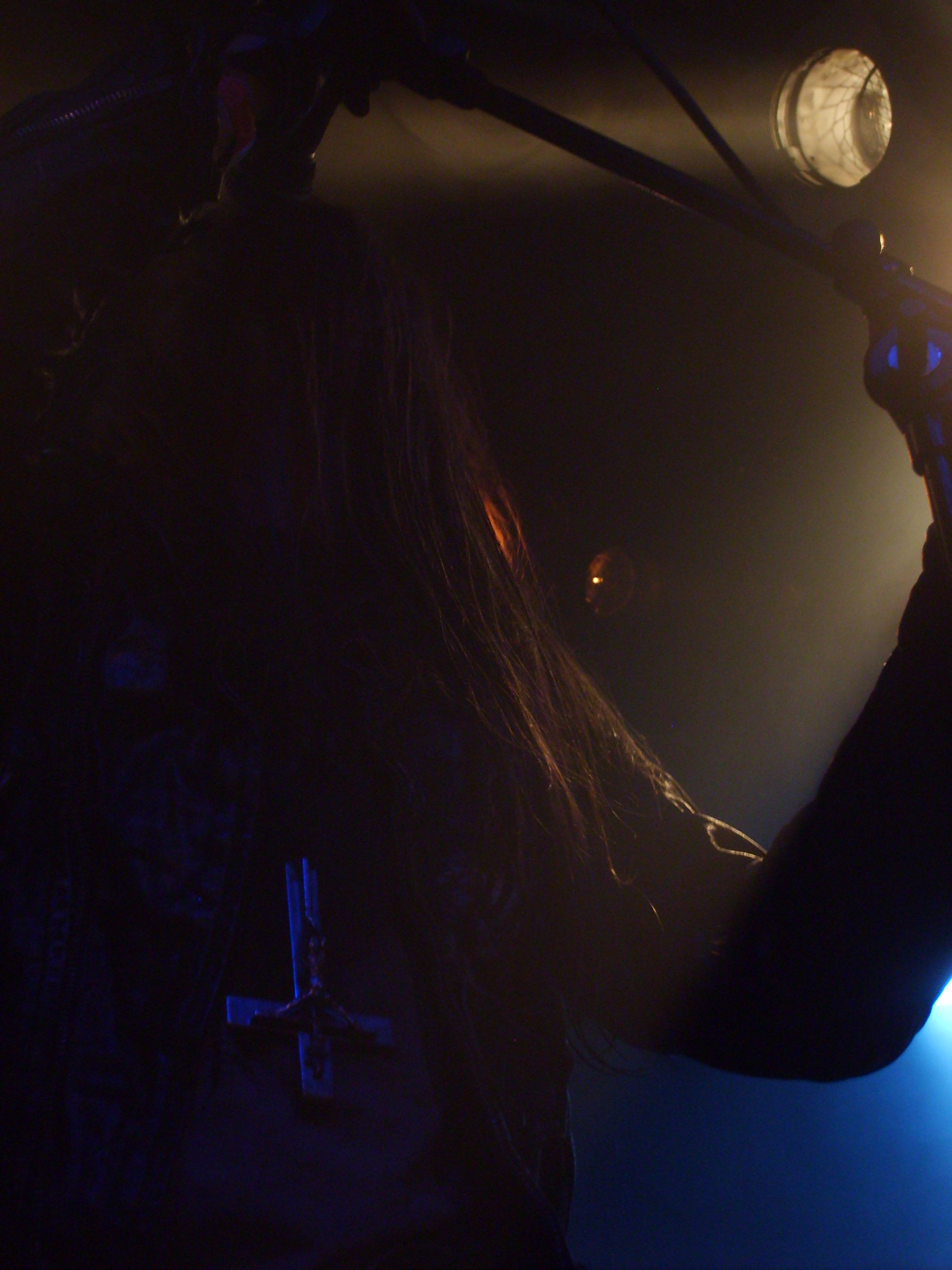 Next up were the sickos of
Pseudogod
. Unfortunately the first couple of songs, suffered from a terrible sound, which makes this kind of music just a blur of riffs and noise. Luckily after a while the sound got better and better. After this minor issue, their filthy, crusty death/black-metal could be enjoyed to the fullest. The reaction of the crowd was pretty good as well, and you could see the band enjoyed that. They were like a steamroller, that couldn't be stopped. Their crusty/filthy guitar-sound, gives their music an extra catchy vibe. The set consisted mostly out of songs from
Deathwomb Catechesis.
Around half the set, the band really took off. The band played with loads of energy and with their catchy, filthy riffs, the band was on fire! The strongest point of
Pseudogod
is the catchy as hell riffs and the strong grunt of their vocalist. In the last song a guest stepped on stage, to play bass. The bass-player played second guitar. An
absolutely devastating heavy song followed. I really would consider a second guitar-player. With a thicker, heavier sound,
Pseudogod
is unstoppable!
(Pictures: Lindsy Bouten)
After that it was time for some cold Finnish black-metal of
Sargeist
. Instantly it became clear, that a lot of people turned up to see this band. They took off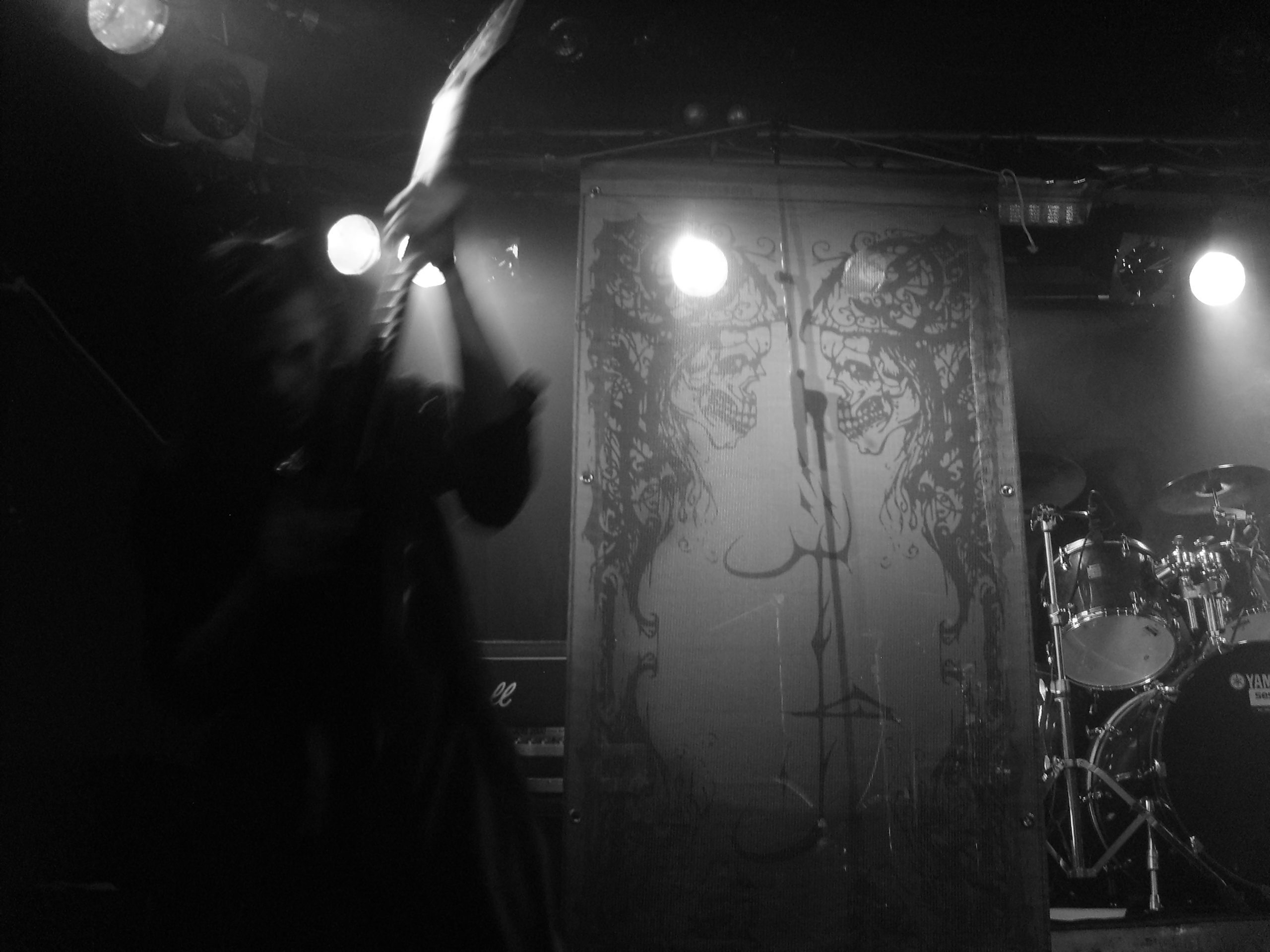 with a fast song with a lot of energy, but after a few songs it became clear that would be it with this band. They play fast, intense black-metal on such a
monotonous variation and speed, that it became boring quit quickly. On top of that, the stage-act was boring as hell too. They just stood around like salt-pillars and played their songs at fast speed. Still the music was descent, but I missed the hooks and catchiness. On some songs I could hear the underlayer, they tried to create, but most of the times it got lost in boredom.

I wasn't too familiar with the band
Nightbringer
, but apparently they have quite a cult following. The soundcheck of this band took ages, which was a bit of a drag and kind of ridiculous. They started the set, with a really good fast, atmospheric song. They also created a really good vibe, with robes, candles and backdrops. What followed was a really well executed, atmospheric show. Really good musicians, whom know how to write son
gs that, are catchy as well as atmospheric. Well done!