Terneuzen Stonerfest 2.0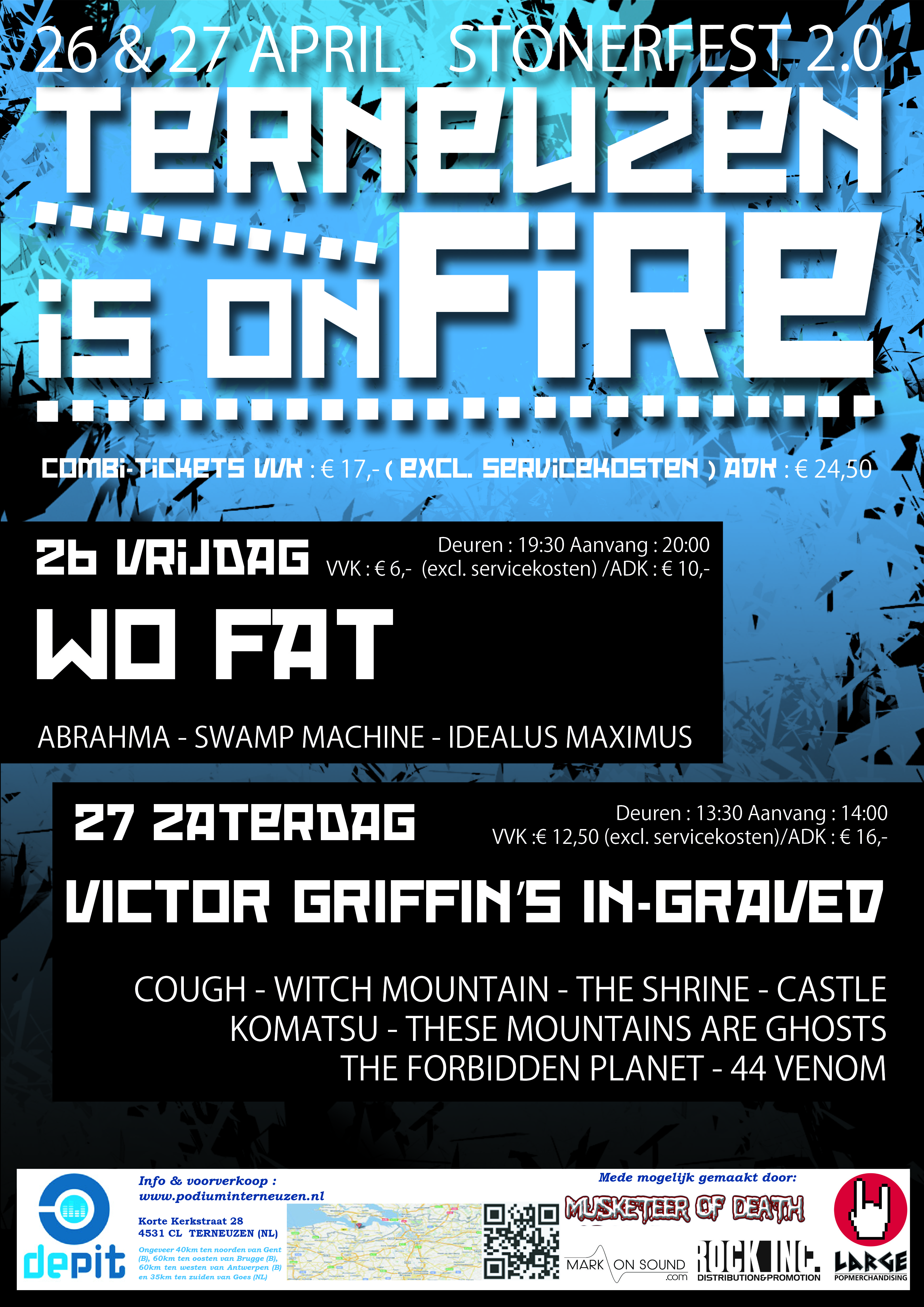 Roadburn uitverkocht?
Vijf Roadburn bands op tweedaags Stonerfest 2.0(13) in Terneuzen op 26/27 april
Op 26 en 27 april is de Pit in Terneuzen een internationale smeltkroes van nauw aan elkaar verwante genres onder de titel: Terneuzen is On Fire – Stonerfest 2.0.
Dit tweedaags festival zit vol psychedelica, 70s metal, stoner, sludge en doom.
Het bekende Roadburn festival in Tilburg is al lang uitverkocht, maar de Pit heeft een aantal Amerikaanse namen geboekt die een week eerder op Roadburn staan:
Wo Fat, hoofdact op vrijdag, Cough, Witch Mountain, Castle en als hoofdact op zaterdag: Victor Griffin's In-Graved, geleid door Pentagram en Place of Skulls gitarist Victor Griffin.
Kwaliteit gegarandeerd!
Nieuwkomer the Shrine komt eveneens uit Amerika, uit Frankrijk komt Abrahma, uit België Idealus Maximus en These Mountains are Ghosts.
Nederland wordt vertegenwoordigd door Komatsu, 44 Venom en de Zeeuwse bands Swamp Machine en Forbidden Planet.
Tickets kosten in de voorverkoop € 6,-- (vrijdag) en € 12,50 (zaterdag), aan de kassa betaal je € 10,-- (vrijdag) en € 16,-- (zaterdag).
Een combiticket voor beide dagen kost € 17,-- in de voorverkoop en € 24,50 aan de kassa.
De voorverkoopprijzen zijn exclusief € 0,90 servicekosten.
Mocht je geen kaartje hebben kunnen bemachtigen voor Roadburn, aarzel dan niet en reserveer tijdig.
Voor meer informatie en ticketverkoop, bezoek

http://podiuminterneuzen.nl/programma/?id=450

en

http://podiuminterneuzen.nl/programma/?id=451