Pain of Salvation - Linoleum EP
The Linoleum EP
by Swedish progressive metal band Pain of Salvation has been out for a while now and was meant as a teaser for their new album
Road Salt
. Since record company SPV and thus their label Inside Out has gone bankrupt, for a while it was unknown whether
Road Salt
would be released at all. Since Century Media took over, the release of this has been more or less secured. There is no exact release date confirmed as of yet, but
Road Salt
is now supposed to be the first in a series of albums. So until then we have this teaser.
According to
Daniel Gildenlöw
their music can be described as 1976 hardrock on steroids. Well, I can sure hear the same kind of weird sounds Led Zeppelin used in their music. Especially on the opening track
'Linoleum'
. But I can't really hear other typical bands of the seventies in their music. I mean bands like Rush, Kiss, Queen, Boston, Black Sabbath and Judas Priest. I may have left a few major acts out, but I guess you get the picture. Take for instance
'Mortar Grind'
, it is sung in quite an aggressive way by
Daniel
. Even on steroids no-one sung like that back in 1976. Followed by a nice but short ballad, the bombastic track
'Gone'
is what reminds me most of previous
Pain of Salvation
tunes.
The last two tracks on this EP won't be on the new album and that is no surprise. 'Bonus Track B' is a spoken recording. It really puzzles me why they have put something like this on a record. I find it totally uninteresting and I can't imagine that fans are really eager to hear this. If you want to hear interesting spoken tracks, put on the Listen with Nicko tracks on the rereleased singles of Iron Maiden. The last track 'Yellow Raven' is a good cover version of the Scorpions track from Virgin Killer. Me personally I would wait for the Road Salt album to come out. The four major tracks will be available on it. For one spoken track and a covertune I wouldn't buy this. For collectors only, I'm afraid.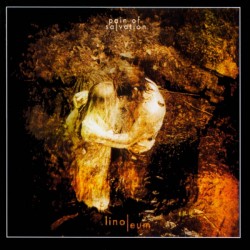 70

/

100

1
Details
Inside Out Music/century media
Released on Thursday Nov 19th, 2009
Progressive Metal
Writer
@Angel
on Wednesday Feb 24th, 2010
Tags:
#pain of salvation
Tracklisting
1. Linoleum
2. Mortar Grind
3. If You Wait
4. Gone
5. Bonus Track B
6. Yellow Raven
Line up
Daniel Gildenlöw: vocals, guitar
Johan Hallgren: guitar, backing vocals
Fredrik Hermansson: keyboards, synthesizers
Léo Margarit: drums, backing vocals
Per Schelander: bass guitar, backing vocals (tour)