Shining - Blackjazz
Just a few years ago, no one ever heard of the Norwegian band Shining but only of the suicidial black metal band with the same name from Sweden. This still causes some confusion, but it seems we have yet another rising Shining. But no black metal (well, some connection but we'll get to that later on), but blackjazz as they like to call it themselves. Prepare for the weirdest, most intense and highly experimental album of the year already.
Shining
has been around since 1999 already but recently came to everyone's attention after supporting Enslaved on a tour in 2007. At this tour, both bands played a cover version of King Crimson's
'21st Century Schizoid Man'
at the same time which resulted in the legendary Moldejazz festival asking both bands to perform a 90 minute set. This so called Armageddo Concerto, which can be seen at this year's Roadburn festival as well, was the beginning of a new era for the band.
Where the four previous full-length albums were experimental but a bit more down tempo jazz,
Shining
definitely took some inspiration from Enslaved this time.
Blackjazz
turns out to be a crazy, experimental piece of art which is actually hard to describe, but I'll try. The instrumentation usually consists of the chaotic use of saxophones and keys while the drumming can be compared to crazy Meshuggah riffs, including blast beats, but with a more jazz-like twist. The rest of the music is filled with some crazy high pitched screams performed by frontman
Jorgen Munkenby
along with some (guitar) noise elements as well.
It sounds like
Blackjazz
contains influences from all over the place; from jazz to metal and everything in between. The album starts off very crazy but gives the music (and listener) some space on tracks like
'Blackjazz Deathtrance'
and
'Omen'
that even has some Sunn O))) elements only to switch back to the crazy King Crimson cover where Enslaved's
Gruttle Kjelson
joins the band on vocals. A very weird combination of a lot of elements but it still sounds like a whole record and not like random parts which I really admire them for.
According to the band, they made this record easier to play live as they had to adjust the older tracks to translate them into a live performance. I can't see how
Blackjazz
is an "easier' record in any way, which makes me even more curious to check these guys out at Roadburn. Not your lazy Sunday afternoon music and a hard record to finally "understand", but something truly special.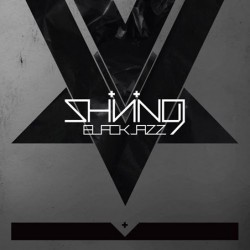 Tracklisting
01. The Madness and the Damage Done
02. Fisheye
03. Exit Sun
04. Exit Sun
05. HEALTER SKELTER
06. The Madness and the Damage Done
07. Blackjazz Deathtrance
08. Omen
09. 21 Century Schizoid Man
Line up
Jørgen Munkeby – Sax, guitar, Akai EWI, vocals etc.
Torstein Lofthus – Drums
Tor Egil Kreken – Bass
Bernt Moen – Keys
Even Helte Hermansen – Guitar