Year Long Disaster - Black Magic; All Mysteries Revealed
Due to the fact I have never read (nor been interested in) a Russian book I'm not able to link the once banned, but now classic 1929 novel The Master and Margarita to one of the bigger rising stars in the rock scene, Year Long Disaster. The novel is woven around the premise of a visit by the devil to the fervently atheistic Soviet Union and is used as an inspiration for Year Long Disaster's second full-length release
Black Magic; All Mysteries Revealed
. If you're really interested in Mikhail Bulgakov's classic you're on the wrong website though. From here on I will only focus on the band with the son of Dave Davies (The Kinks) as guitarist and vocalist, the bassist of Karma To Burn and the drummer of the eight-time platinum-selling group Third Eye Blind.
After the group's self-titled debut album (2007) they toured with big bands like The Cult, Velvet Revolver and the Foo Fighters. They received many positive reactions and, for example, Lemmy Kilmister (Motörhead) stated that "
Year Long Disaster
plays rock and roll music like rock and roll should be played
". For
Black Magic
they were even more ambitious and hired producer Nick Raskulinecz (Foo Fighters, Alice In Chains, Rush and many more) to produce their new album. With Raskulinecz, a well though concept and songs they wrote on the road they had no big problems with recording whatsoever.
Although all of the above sounds very promising it's up to the fans whether or not
Black Magic
becomes a success or not. I'm however convinced that this record will become a big success though. At the moment there isn't any other hardrock band that can top
Year Long Disaster
's catchy rock songs, their experimental escapades or the laid back parts in my humble opinion. There are no real highlights on this album, 'cause all the 11 songs are of the same high quality, but a personal favorite is '
Sparrow Hill
' that has all good elements of the band in it. Their 70s inspired rock also totally fits the coming spring period. Perfect album for cruising down the beach in your car with all windows down and this album at maximum volume or during a little party in your own garden with some friends, beer and barbequed meat. A couple of years ago there was Wolfmother, well… fuck them! Here's
Year Long Disaster
! Try to see them live on their European tour in April as well.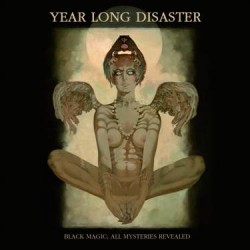 83

/

100

1
Details
Volcom Entertainment / Rough Trade
Released on Tuesday Mar 9th, 2010
Hardrock
Writer
@Gilles
on Tuesday Mar 2nd, 2010
Tags:
#year long disaster
Tracklisting
01. Black Magic
02. Show Me Your Teeth
03. Love Like Blood
04. Stranger In My Room
05. Sparrow Hill
06. Seven Of Swords
07. She Told Us All
08. Venus At The Crossroads
09. Major Arcana
10. Foggy Bottom
11. Cyclone
Line up
Daniel Davies – Vocals, guitar
Rich Mullins – Bass
Brad Hargreaves – Drums