Los Sin Nombre - Blind Leading Blind
With a name like Los Sin Nombre you could only expect that this band would hail from Sweden. Okay I might exaggerate a bit but after the first couple of tones I must say the Swedish influences are numerous. Especially Soilwork, In Flames and The Haunted are some of the names that cross my mind when I'm listening to this debut album called
Blind Leading Blind
.
Last year wasn't filled with a great number of good debut albums. Luckily I can add
Blind Leading Blind
to this small list. It's not that the album is really renewing or refreshing within the genre, on the contrary, everything is probably done before. Well then, what did
Los Sin Nombre
do to make this album so special. Well it's quite simple. The guys are playing with everything they've got . Every songs sounds like it could be there last. Add to this a simple production that gives the album an edgy and raw feeling and you'll have a final product that sounds killer, although it isn't really renewing in any way.
So it is quite simple. If you like some good old fashioned Swedish riffing combined with some great melody lines and tight drumming you should check this album out and keep
Los Sin Nombre
in the back of your mind because they could be an interesting band for the next couple of years.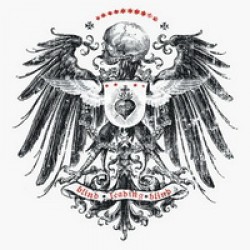 80

/

100

1
Details
ViciSolum Productions
Released on Saturday Nov 9th, 2013
Melodic Metal / Metal / Metalcore
Writer
@Niamen
on Tuesday Mar 2nd, 2010
Tags:
#los sin nombre
Tracklisting
01. Ashes To Ashes
02. Bleed
03. Blind Leading Blind
04. Breaking Silence
05. Enemy
06. Infected
07. Our Daily Bread
08. Passing Through
09. Raised In Anger
10. Taker Of Innocence
11. Wounds
Line up
Pär Palm - vocals
Martin Fogander - guitars
Saul Camara - guitars
Jack Karlsson - bass
Linus Melchiorsen - drums