Adust - Question The Illogical
Adust is a young English band, which formed in 2007.
Question The Illogical
is their second EP after the release of their EP
Through Anothers Eyes
in 2008.
Man can say that they´re quite a productive band in their short period of existence. We see this happening with a lot of young bands nowadays and the end results are most of the time devastating, since they don´t have a clue what to do when entering the studio.
Question The Illogical
is produced under the supervision of Chuck Creese of Burning Skies fame, so they were under good guidance.
In the enclosed biography they mention that
Adust
is a mixture of Lamb of God and Stone Sour and Metallica and Heaven Shall Burn. It has to show how versatile
Adust
is. I can go along way with the versatility that´s mentioned, but I don´t agree with the bands named. If I have to mention a band with which
Adust
is most similar with it would be the band Arsis. This is mainly due to the screeching vocals of
Rob
.
At first glance I found the record a bit of a mumbo jumbo. I sometimes lost the band in all their good intentions. For example the song
´Visions'
. It starts of very slow with
Rob
using his clean voice, then after all this hell breaks loose with a total change of pace. The soft and quiet part abruptly makes place for heavy and neck breaking thrash. Okay, they use some nice solos in this part, but the transition is so abrupt that it almost seems like two totally different songs. After 5:20 the pace plummets again, and we hear
Rob
with his clean vocals, while we hear a spoken word like part around 6:20. They close again with some uptempo thrash metal. To be honest for me this was too much variation in one song and I couldn't keep my attention at it. Not even after a few spins!
'Inner Struggle'
has the same problems as
´Visions´
. Unfortunately we have the pleasure to hear the clean voice of
Rob
again. His clean voice sounds uninspiring, while his Arch Enemy/Arsis growls are impressing! My tip, please stay away from the clean vocals or work at them. Fortunately, on
´Inner Struggle'
we also hear some of the strong points of
Adust
: great groovy drum work and excellent control of the guitars and this all accompanied with the growling voice of
Rob
. In these parts you can really tell that this is a very talented group.
For me
'The Damaged'
should be the blueprint for their follow-up, this is just an excellent song which really blew me away. This song combines every strong point of
Adust
. They're bringing the song with so much aggressiveness it is almost frightening. It shows that they could even give Arch Enemy and Arsis a run for their money. They just have to keep their focus on the song, without trying to do too much in one song. Despite my criticism in the songwriting department, I think that this
Adust
is a talented bunch of people and I am really looking forward to their first full length!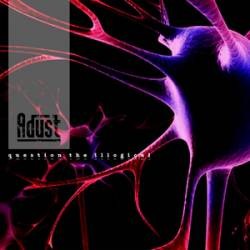 Tracklisting
1. Depreciation
2. Losing Faith
3. The Evil That Dwells Within
4. Vicious Cycle
5. Inner Struggle
6. The Damaged
Line up
Rob Pease – Vocals
Guy Jones – Guitars
Dave Coxx – Guitars
Matt Simpson – Bass
Danny Bidle – Drums