Blacklevel Embassy - New Veteran
The noise rock from Shellac has its worldwide fame, even down under. From Australia is Blacklevel Embassy that is now coming up with their third album entitled 'New Veteran'. Last year they did the support for Shellac over there, according to the energetic and brilliant song writing skills on this album it was absolutely granted to pick that spot.
Directly in the first song 'New Veteran' they show they carry the torch and spirit of Shellac's musical landscape. As enthusiastic young sons the noisy guitar pickings are woven into furious rock songs. With a punk attitude they play ten songs in + 30 minutes. As a rollercoaster they are over before you notice.
Vocally both string pickers
Adam
and
Brett
shout into the microphone as young pricks on the barricades. The dual vocal attack in the first song is more than convincing. With respect to that attitude and the punky version of the noiserock (listen to
'Old Revolt'
for example) I imagine how Hot Water Music should sound if they cover Shellac. I bet it's close to
Blacklevel Embassy
because both bands have that 'smoky pub' vibe in their music.
Normally noiserock is pretty much staccato and sterile, but these Aussies made it a lot more living, due to the double vocal duties and the groove in the material. Sometimes they deliver some weird breaks and rhythms such as in the beginning of 'You Build Yourself a Deck' but that that keeps you, as listener surprised. Yeah, the record stays high energetic with this trio.
The album has drummer
Joel Ellis
for the first time on board. He plays the shit as tight as a motherfucker without forgetting the groove and fills. I like his drum style especially in the second track
'Old Revolt'
. It starts off very staccato while later he plays with much more freedom. Together with the bass line (the sound of the bass is amazing on this album by the way) this is one of the catchiest songs on the record.
Later on the record it becomes true the noisy guitar picking sounds are getting a place in your brain. They won't go away during the playing time of New Veteran and want to enter again so you play the album once more. After all these fine words I still forgot to mention how great the guitar harmonies and melodies are! Recommended if you are an old noise rock fanatic or a young prick that's picking up the latest noise rock revival!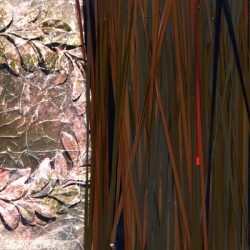 Tracklisting
1.New Veteran
2.Old Revolt
3.Viking Tattoo
4.Tony
5.You Should Build Yourself A Deck
6.Gary
7.Weng Weng Is A Secret Agent
8.Midnight Siblings
9.Neighbour Ray
10.I Keep Making Tiny Men
Line up
Brett O'Riley - Strings & Vocals
Joel Ellis - Drums
Adam Cooper - Strings & Vocals