Terra Tenebrosa - The Purging
Terra Tenebrosa
is a strange beast with the members dressed up with masks standing somewhere in the outside fields. Less is known from them except there are some members of Breach involved. That means expect the unexpected and a haunting ride on The Purging. Take the sinister atmosphere of Black Metal and Doom Metal and throw it into the best Sludge and dissonant hardcore you can imagine.


Hell,
Terra Tenebrosa
is a band that can't be compared to any other band. In one moment it's haunting dissonant hardcore with insane vocals in 'House of Flesh' while next up 'The Nucleas Turbine' is like a horror movie soundtrack song (hare the industrial sounds and whispering voices) remixed by avant garde band
Ulver
. At the same time The Purging is creepy as it is grooving like the best metal in town hence the title track.
The filthy riff and slow beat is the perfect background for the sick growling of the Cuckoo (I imagine he's doing the vocals) while the song is grooving to a rock and roll end with a dark layer underneath. This continues in the song 'Terra Tenebrosa' where the understandable low vocals are the highlight of the song.

In old
Breach
style a dissonant riff is kicking off in 'Disintegration'. The atmosphere is scary because of the dark ambient sounds and the reverbing vocals in the back. It ends in melancholy and leaves you alone with the question if the world finally has been taken over by zombies now. Terra Tenebrosa are one of the few bands that is leaving you with a really unpleasant feeling and this is a compliment of course. The outro 'The Reave' keeps you stuck with that feeling.
These guys should come on tour, play an amazing late night show at a festival. They are from Sweden so promoters it won't be so hard to let these guys come over.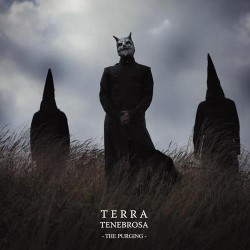 Tracklisting
1.The Redeeming Teratoma
2.The Compression Chamber
3.Black Pearl In A Crystalline Shell
4.House Of Flesh
5.The Nucleus Turbine
6.The Purging
7.Terra Tenebrosa
8.At The Foot Of The Tree
9.Disintegration
10.The Reave
Line up
The Cuckoo
Hibernal
Risperdal