Despicable Heroes - Shipwrecked
Barneveld, a village in the middle of The Netherlands, is primarily known for its poultry industry and its large Christian community. Since 2010 however, three locals formed Despicable Heroes to give people an extra reason to remember this little town. With a mixture of hardcore and metalcore they steadily grew these past few years from playing the local youth centre to even some shows abroad. With their 8-track debut album
Shipwrecked
they've now taken the logical next step in their evolution as a ban
d.
With '
The Stand
' they kick off in a way that has some resemblances with bands like Killswitch Engage or All That Remains, but especially due to the vocals it goes further than just that comparison. Even though they occasionally mix their furious efforts with some catchy melodies the deep and dark screaming keeps it heavy at all time. These guys also invited some brothers-in-arms to sing with them, but these guest vocals doesn't always have its desirable outcome. The guest vocals are uncredited, so I only know Ashes Of Many's singer helped them out on '
Walls
' and he does a reasonable job. The more hardcore-like guest vocals on '
Seven
' are for example really not that bad, but just doesn't seem to fit the whole attitude of the record.
Listening to the whole album there are some little remarks like a couple of songwriting tricks that they use a little bit too often. Especially when they're building up to a breakdown. Furthermore in some cases the songs tend to be a little bit too long, but on the other hand they also prove with their more epical title track that they definitely can hold your attention for an extended period of time. All in all a good (studio) start for this young band and definitely promising for what's yet to come.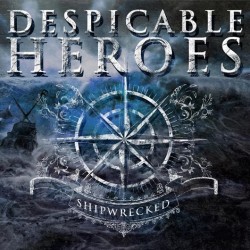 Tracklisting
01. The Stand
02. Wall
03. Grey To Black
04. Seven
05. I'll Fight Back
06. No Way Back
07. Opened Eyes
08. Shipwrecked
Line up
Kevin Bos - Vocals, Guitar
Gino van Middendorp - Bass
Sam Rijken - Drums