Lost Soul - Immerse In Infinity
I was a bit let down by the Poland scene last year; Vader's new album was absolute shit, the new Behemoth didn't match my expectations and the new Azarath didn't give me the goose bumps either. But suddenly, completely out of the blue, one of the best death metal albums of the year emerged from the cold eastern corner of Europe.
Lost Soul
has been around since 1991 already but for some reason I've never heard of them before they unleashed
Immerse to Infinity
. Not strange, as the band broke up a while and only released 4 full-length albums in their 19 years of existence. With a fresh new lineup after some member changes, they are back with the release of their fourth album
Immerse in Infinity
.
As most of the polish death metal bands, you can definitely hear
Lost Soul
is coming from Poland and taking some influence from bands like Vader, but
Lost Soul
definitely adds something extra. First of all, their tracks are way longer, some even peaking at 8 minutes. This really gives drummer
Desecrator
the space to show his capabilities on the drum kit because they are beyond intense. I haven't heard a drummer playing so many straight forward blasts as well as adding creativity in cymbal and drum roll use in a while. Second, the guitar work is just plain awesome. The double guitars work perfectly on fast parts as well as mid-tempo parts where the band gives some space for some soloing. On top of it all there are some really smooth minor jazzy bass/guitar licks in between, giving the tracks just a bit extra. Vocal wise there is nothing special to say actually; unsurprisingly they remind me a bit of Behemoth and Vader but are a bit more powerful. The band's instrumentation is its main focus anyway. Besides the straight forward blast tracks such as the opening track
'Revival'
and my personal favorite of the album
'One Step Too Far'
, there is also some mid-tempo work on the album such as
'…If The Dead Can Speak' and 'Breath of Nibiru'
, making it a fine album to listen to.
Final verdict?
Immerse in Infinity
is definitely one of last year's best death metal albums. The long but intense tracks never get boring and the instrumental capabilities of the band members are so extremely enjoyable to listen to. I hope this will finally get
Lost Soul
on the map and on the road as well. If the band can match the standards they have set on cd, we can expect something huge!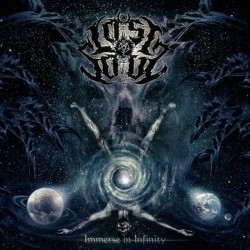 88

/

100

1
Details
Witching Hour Productions
Released on Tuesday Oct 6th, 2009
Death Metal
Writer
@Brent_
on Sunday Feb 28th, 2010
Tags:
#lost soul
Tracklisting
01. Revival
02. Personal Universe
03. …If The Dead Can Speak
04. 216
05. One Step Too Far
06. Breath of Nibiru
07. Divine Project
08. Simulation
Line up
Jacek Grecki - Vocals, Guitar
Damian (Czajnik) Czajkowski - Bass
Desecrate - Drums
Domin Prykil- Guitar