Pantheon I - Worlds I Create
Unlike the rest of the bands, Pantheon I gave away a pretty good show on the tour with Absu and Razor of Occam which made me curious to check out a studio album as well.
Worlds I Create
is their third studio album since they formed in 2002. Can they stand out between the shitload of black metal releases lately?
The band also caught my attention due to the interesting lineup of band members; 1349, Den Saakaldte, Sarkom and Koldbrann are just a few names the members play or played in. So what can we expect musically? Something completely different than the bands I just named,
Pantheon I
is a cello-driven melodic black metal band. Think Keep of Kalessin but on the speed of Dark Funeral and 1349. The album kicks in with the well done
'Myself Above All'
but I started to get annoyed by the cello work very soon. For some reason they don't use the cello on melodic "breakdown" parts, but mostly all the way through the tracks and on top of the fast technical blasting parts. The use of the cello and acoustic guitars between the fast parts give the album a bit of a folk/gothic feel on the tracks sometimes, which gives
World I Create
a bit of originality as well.
The tracks are usually a bit too long for my taste, ranging between 5 and 7 minutes of straight forward black with just a few acoustic guitars in between. There's actually no solo work on the album or whatsoever which makes it tough to stick your concentration to it without really wandering. All the band members definitely know their capabilities of their instruments very well, but it seems the originality comes together more in their other projects. I was surprised to hear some clean vocals on
'Ascending'
which turns out to be Katatonia's Jonas Renske. For some reason it doesn't really fit too well in its place but it's nice to hear
Pantheon I
do something different besides the straight forward parts.
Worlds I Create
is not a band album at all; in fact, it sounds technically better than most of the black metal releases I've heard lately. But the unoriginal use of instrumentation (especially guitar work) and the cello that keeps on going all the way through the tunes make it hard to stick your attention to this record for 50 minutes or so.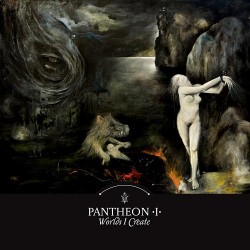 61

/

100

1
Details
Candlelight Records
Released on Tuesday Jul 28th, 2009
Melodic Black Metal
Writer
@Brent_
on Sunday Feb 28th, 2010
Tags:
#pantheon i
Tracklisting
01. Myself Above All
02. Defile the Trinity
03. Serpent Christ
04. Ascending
05. Burn The Cross
06. Bannlyst
07. The Last Stand
08. Written In Sand
Line up
André "Tjalve" Kvebek - Vocals, Guitar
John Espen Sagstad - Guitar
Tor Risdal "Seidemann" Stavenes - Bass
Mads Guldbekkhei - Drums
Julianne Kostøl - Cello