DevilDriver
, the band of former Coal Chamber front man Dez Fafara, has been writing new music like they have some never ending source of inspiration. They release a new album every two years of which Winter Kills is their sixth in 11 years and the first one not to be released on Roadrunner Records but Napalm Records. It took some albums to find their own sound but it has been pretty solid for the past couple of records.
For Winter Kills the band clearly did not change the path they have followed the past decade. The melodies are easy to recognize and Dez his vocal style is the fingerprint of their sound. It is simply brutal mainstream metal. Maybe even more brutal than ever before. An effective formula to create massive mosh pits on festivals and in clubs. Highlights on the album are title track Winter Kills, Desperate Times, Carings Overkill and Tripping Over Tombstones. Haunting Refrain contains a guitar solo, which we have not heard before on a DevilDriver record.
Fun fact is the way
Gojira
has influenced
DevilDriver
over the years. Where you could previously hear the squeaking guitar sound you now can hear a typical
Gojira
tapping sound in the track Ruthless.
Biggest flaw of the album for me is the cover of Sail (AWOLNATION). Not because it is a bad cover but it simply does not fit the band to do this. It is a risky move and I do want to give them credits for trying but it just does not fit the record.
DevilDriver proves that never changing a winning formula can keep the listener entertained over several years. Where others have failed they succeeded. A must see live band which has added just another solid album to their discography.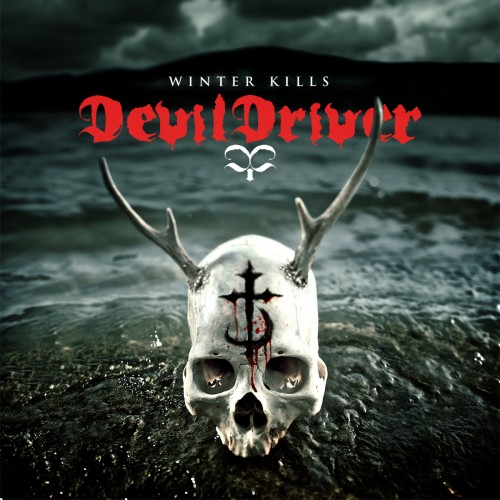 Tracklisting
1. Oath of the abyss
2. Ruthless
3. Desperate times
4. Winter kills
5. The appetite
6. Gutted
7. Curses and epitaphs
8. Caring's overkill
9. Haunting refrain
10. Tripping over tombstones
11. Sail
Line up
Dez Fafara - Vocals
Mike Spreitzer - Guitar
Jeff Kendrick - Guitar
John Boecklin - Drums
Chris Towning - Bass