One of the greatest thing about the Easter weekend is the Dutch Paaspop festival. Since 2006 Metalrage attended this festival so it was pretty obvious we couldn't skip this one. So the crew packed their bags to go for a weekend of humongous drinking contests, watching bands and freezing of their asses on the campsite during what turned out to be the coldest eastern weekend in Holland since 1964. Indeed tradition's a bitch…
Since I was the first one to arrive on the campsite about 6 hours prior to the festival I had to come up with an idea of spending those hours. It was pretty obvious it would involve drinking and a quick look inside the campstore showed us that a lot of tables were already waiting for us. The following hours were spent on drinking, drinking, drinking, eating some potato chips and some more drinking. Oh and there was this point that someone said we had to get our backstage passes to the festival. Luckily from this point my fellow crewmembers
Gilles
and
Tibor
did arrive just to direct everything in the right direction. (Niamen)
Metalrage-wise the first festival day wasn't really spectacular. There were no real heavy bands on the roster and after seeing some hiphop and reggae and dancing along with 90s hits we were delighted to see
John Coffey
closing this first day. These five Dutchies with Utrecht as their homebase are regular seen guests on Dutch festival, keep getting more airtime on national radio and also are conquering Germany step by step. This all started after the release of their second full-length
Bright Companions
. With a heavy screamo / rock 'n roll sound with some Southern accents they play music in the style of a band like Maylene And The Sons Of Disaster, but their live show is even better than their music. Tonight they unfortunately had some trouble convincing the crowd to go berserk. They however did play a solid show and still I would recommend everyone to check them out at one of their gigs, most preferably in a small, warm and sweaty venue. (Gilles)
You could say that this first day of Paaspop is more or less an extra day just to get in the mood since only half of the stages is programmed. Still I had a blast during this first day. Name one place where you can dance on your guilty pleasures from the nineties drink beer with friends or just wonder around and discover that
Skunk Anansie
is also playing on this festival. Of course I already knew that I just took an effort to describe the diversity of this festival. By the way, from what I've heard it was a really good show from Skin and her fellow band mates. (Niamen)
SATURDAY
Steak Number Eight – Phoenix
The last couple of years the stage where
Steak Number Eight
was now replacing Shadows Fall called the Masters Of Rock, but they changed the name to Phoenix to broaden the musical scope of the stage. Fortunately there were still enough rock and metal bands to check out, starting with these Belgium youngsters. With a mixture of post-rock and sludge they had the difficult task to kickstart our day. They succeeded partially. They truly delivered some quality tunes during their heavy and intense set, but for the average visitor the slower ambient parts were too explicitly present too really get into the festival vibe. They probably would have been more successful when programmed at the smaller and more intimate Jack Daniel's Stage. (Gilles)
Bang Bang Bazooka – Thunderbolt
Like last year the almighty Thunderbolt bar has risen up from the festivalgrounds of Paaspop. This biker orientated bar with a small stage inside was the playground for the Dutch rock n rollers of
Bang Bang Bazooka
and since my friends were grabbing a decent glass bottle of beer, indeed I said glass, in that same joint I grabbed the moment to watch these guys perform. Since I'm not very familiar with the band I didn't expect very much of it. Oh boy what was I wrong within a couple of songs more than half the people inside were dancing or at least trying to. During this performance I could only mention to myself over and over again that I have to see those guys in action in a small sweaty club. Damn these guys rock! (Niamen)
Jack Daniel's Legend. – Thunderbolt bar.
I still think that's a bit odd to announce a special Jack Daniel show in a bar when literally only hundred meters away is a tentstage with the same name. Nonetheless since the bar had a great view across the festival grounds and also beer in glass bottles we decided to hang around a little less longer just to check out this Legend that would perform. Since I didn't get my hopes up very much you could imagine my enthusiasm when it turned out the be the badass rockers from rockcity Eindhoven. Indeed the almighty
Peter Pan Speedrock
turned out to be the Legend that was booked for this cousy bar. Together with
Dr No
, from Dr No guitar effects I presume, they delivered a nice instrumental set that floated between stoner and speedrock. Personally I preferred this performance above their performance one day later at the Phoenix stage. With great enthusiasm they treated the bar to a nice set of songs. A nice surprise if you'd ask me. (Niamen)
Testament – Phoenix
Ever since the album
The Gathering
I kept following these uncrowned thrash metal kings. With
The Dark Roots Of Earth
Testament
delivered one of the strongest thrash metal records last year so you could say I was pretty stoked to see Chuck Billy and his companions again. Although I had the idea a lot of fans were there alongside me to check them out they did had some starting problems which resulted in a rather weary begin of the set. Luckily the band pulled itself together and followed ringleader Chuck into the warzone. After this the crowd followed pretty fast and it turned out to be a rather great performance. (Niamen)
Sólstafir – Jack Daniel's Stage
Personal highlight of the day was the extremely loud and impressive show of the Icelandic quartet
Sólstafir
. I'd seen them before at the Fortarock festival on an open air main stage around noon, but that didn't impress me at all. Today it was a completely different story. In a fairly intimate setting these guys rocked hard. It wasn't really due to an energetic stage performance or a remarkable interaction with the crowd, but they did realize to create a dark and compelling atmosphere in which they drowned the listener with a thick and heavy wall of noise. (Gilles)
Traumahelikopter – Jack Daniel's Stage
Closing this small rock stage is an honorable task, but in my humble opinion they could have better switched
Traumahelikopter
and
Sólstafir
.
Traumahelikopter
is a Dutch rock 'n roll trio that exploded in the Dutch music scene out of nowhere. They have an energetic stage performance and their songs have a catchiness factor from outer space, but it all is a bit too neat and too damn slick if you'd ask me. Great "
heavy
" band for mainstream radio, but too upright for heavy music lovers. Not a real "
go out with a bang
" experience. (Gilles)
SUNDAY
Kvelertak – Phoenix
After the 2010 release of the self-titled debut album
Kvelertak
was a recently seen guest on the many festivals and stages in Europe. With their debut album they proved that black metal, hardcore punk and hard rock can perfectly be mixed to something heavy and catchy. With a second release past week they're now willing to prove they're no one-hit-wonder. And judging from this festival appearance they did it once again. Sure the set lent most of its tracks from
Kvelertak
, but the
Meir
ones did great as well and received at least an equal or perhaps an even better reaction from the crowd. I will have to wait to judge them until I've listened to the whole new record, but their show was very promising at least. (Gilles)
Up The Irons – Thunderbolt
"
Scream for me, Paaspop!
" At the festival they programmed a Hard Rock Karaoke and a Heavy Metal Disco show, but what better way to sing along with the most famous heavy metal tunes than at a concert of one of the best Iron Maiden cover bands?! At a packed Thunderbolt (more a metal bar than a real stage) it was an hour long Iron Maiden karaoke with
Up The Irons
. They played flawless, their performance was decent, but most important: they played classic after classic. From songs like '
Fear Of The Dark
' to '
Wasted Years
' and '
Run To The Hill
'; everybody was singing and/or head banging the whole set. When your festival is too small for the real deal;
Up The Irons
is what you need! (Gilles)
Peter Pan Speedrock - Phoenix
When the other guys decided to check out the Iron Maiden cover band I stood my ground and decided to go watch the band that has played almost every edition of Paaspop. Indeed the almighty Peter Pan Speedrock! Little did I know that it turned out to be one of the major disappointments this weekend. Maybe it has to do with the fact that I stood in the back of the tent, maybe it was the shivering cold that has taken it's toll over the weekend or the overall vibe in the tent. What I do know is that frontman Peter did do his best to let the audience participate or even to get some crowd response, but when even the band mascotte Dikke Dennis couldn't get the party started they just played the set and thanked the audience for showing up. Pretty obvious that the cold was taking it's toll. (Niamen)
Vanderbuyst – Jack Daniel's Stage
After hearing and singing some heavy metal classics it was time to continue with the Dutch hard rock assault
Vanderbuyst
. In a relative short period of time they achieved a good name in the (Dutch) hard rock scene and an even better live reputation. Today they once again proved that their reputation is legit, but they also showcased that a cold engine doesn't run that well. I can't quite put my finger on it, but the first couple of songs weren't convincing and they didn't get the response from the audience they were looking for. After those first few, these problems fortunately vanished and things were only getting better and better. At the end of the show they'd won the entire audience for them. With a big smile on our faces we continued our way. Hard Rock and Heavy Metal is alive and kicking! (Gilles)
Gojira – Phoenix
I saw Gojira. Peed my pants and came….
Twice. (Niamen)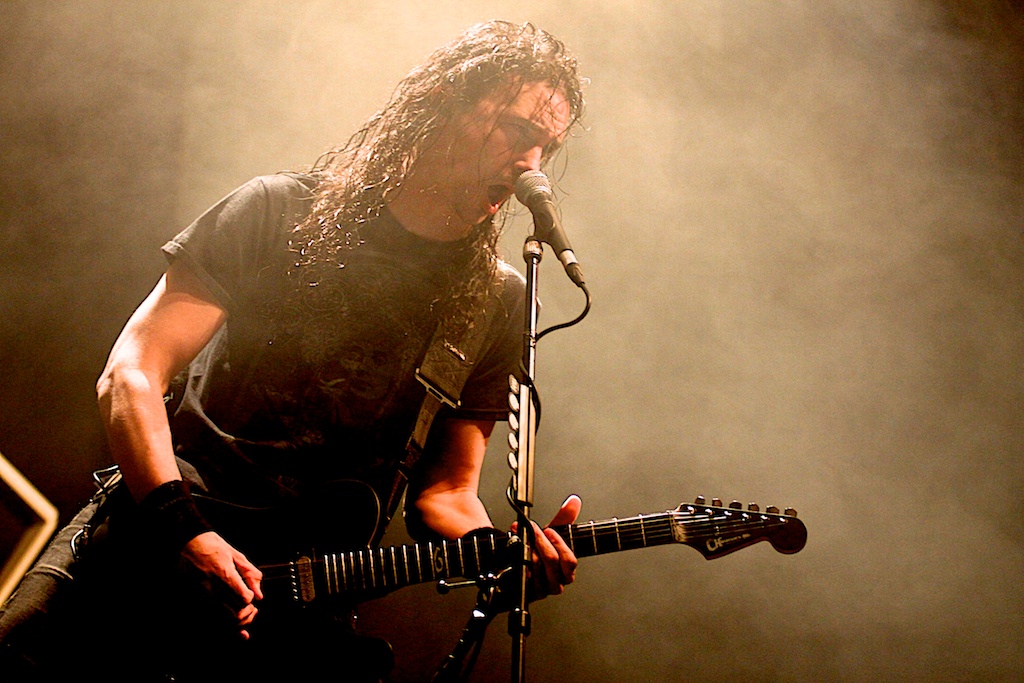 Death Angel – Phoenix
Every festival needs a good thrash metal band and this time we were treated with the Bay Area thrashers of
Death Angel
. At this point the three days of festival clearly were taking their toll, with enough people not able to stand on their feet (mostly due to the liquor) or others tired of the cold weather conditions. At
Death Angel
's gig all these discomforts were soon to be forgotten due to an energetic performance, a good interaction between the band and the crowd and the just plain simple and effective thrash songs they fired upon us. Mostly hard and heavy, but also with a nice cover of Black Sabbath's classic '
Heaven And Hell
' they impressed us a lot more than for example Testament the day before did. After three years of touring they're returning to the studios for writing and recording new material. Judging by the spirit these guys still possess it's going to be a release to be already looking forward to. (Gilles)
The Gaslight Anthem – Apollo
One of the few moments for me to enter the mainstage area was because of this band but after a couple of songs I came to the conclusion I should've skipped this one. The once young and brave punkers from Jersey didn't take any form of action to entertain the audience. It took almost 5 songs to even get a glimpse of a smile from Bryan Fallon. Of course the fans could enjoy the setlist that was nicely divided across the albums but almost every song was played on the automatic pilot. When I compare this with previous shows I've seen of them it even hurts me. An utterly disgrace for The Gaslight Anthem. (Niamen)