Dokkem Open Air 2013 - Day. 2 - Still muddy, wet and a lot more rain!
After surviving the very muddy and extremely wet first day, we made ourselves ready to conquer another day of mud, stale beer and lots of rain. None the less Dokkem Open Air had a rainy edition, but a bigger and better edition, then previous years. Dokkem Open Air is here to stay!
Stonehawk" title="Search for Stonehawk">Stonehawk
This young Frisian band opened up the second day. Just like Hell City, they won a band-competition to get this slot. A young band that kind of played groovy modern metal, which sometimes reminded me of Prong in their best years. Pretty ok start of the day.
Blood Red Throne" title="Search for Blood Red Throne">Blood Red Throne
Blood Red Throne" title="Search for Blood Red Throne">Blood Red Throne missed their slot, because they were stuck at an airport in Berlin. The organization tried to get them over here anyway and see if they could give them some playing-time later on the day. Later that night local people picked up the band, but by that time unfortunately there was no more time left for them. Bummer, because I was looking forward to this show.
A local band called Hellbite filled in. They were a typical hardrock/rock 'n roll band, by some local older guys. Really nice Rose Tattoo vibe they had going on.
Heathen" title="Search for Heathen">Heathen
During a monsoon of rain, these Bay Area legendary thrashers preformed a decent show. The setlist existed out of old and new material. It was a decent show, but I somehow missed a spark, that thrash-metal bands should have to enlighten my inner fire. Biggest problem with this band is probably, that they do a good job, but most songs are just mediocre. To my opinion back in the 80's they were the little brothers of bands like Exodus and that is what they probably still are nowadays. Not bad, but it just got a bit boring after a while.
Von" title="Search for Von">Von
What to write about this reincarnation of this band? I already was very skeptical; when I found out they would tour Europe. To my knowledge just one of the band-members is vaguely involved with the original band. As soon as the band came up on the stage, it became clear that the one" vaguely" original member hired a bunch of youngsters to support him. I know Von earned a cult-status, merely because bands like Watain like to show off with them. Back in the day, their minimalistic black-metal wasn't that good, but nowadays it's just rubbish! This is a typical overhyped "cult" band, which does their thing poorly. The 2nd song came as a small surprise, since that song was a doom song with one repeating riff! For a doom song a single repeating riff works, but a fast black-metal song with a single riff becomes boring quite quickly! Up on all fronts, this band feels like a band with no original members that take advantage of the "cult" name and make money with that! Next…!!
The Monolith Deathcult" title="Search for The Monolith Deathcult">The Monolith Deathcult
It has been a while, when I've last seen this Dutch band. I still thought they played brutal death-metal, but they kind of changed their style in "Rammstein" death-metal. They started the show with a really good intro, a country guy singing an emotional song, which slowly shifted into a small child (girl) voice, which took over the song. Can someone tell me what that was? Beautiful! The Monolith Deathcult had by far the loudest and best sound of the whole festival, literally ear-shredding loud. It was a good solid show, but their flirtation with army stuff makes it for me a bit uneasy. I really liked the use of the samples and the electronics, but the predictable "Rammstein" riffs became boring quickly.
Orange Goblin" title="Search for Orange Goblin">Orange Goblin
Just barely recovered from the awesome show, that we saw two days before in the Patronaat; it was Orange Goblin time again! The started off the set with an intro of the old Italian band Goblin. Ben Ward is simply the best front man in the world! He succeeded in the pouring rain, to gather a crowd in front of the stage that totally forgot about the shit weather and got crazy with him! Ace…!! The setlist was pretty much the same as two days before and existed out of old and new songs, with again a Slayer-ivied 'They Come Back' as tribute to Jeff Hanneman. Great show.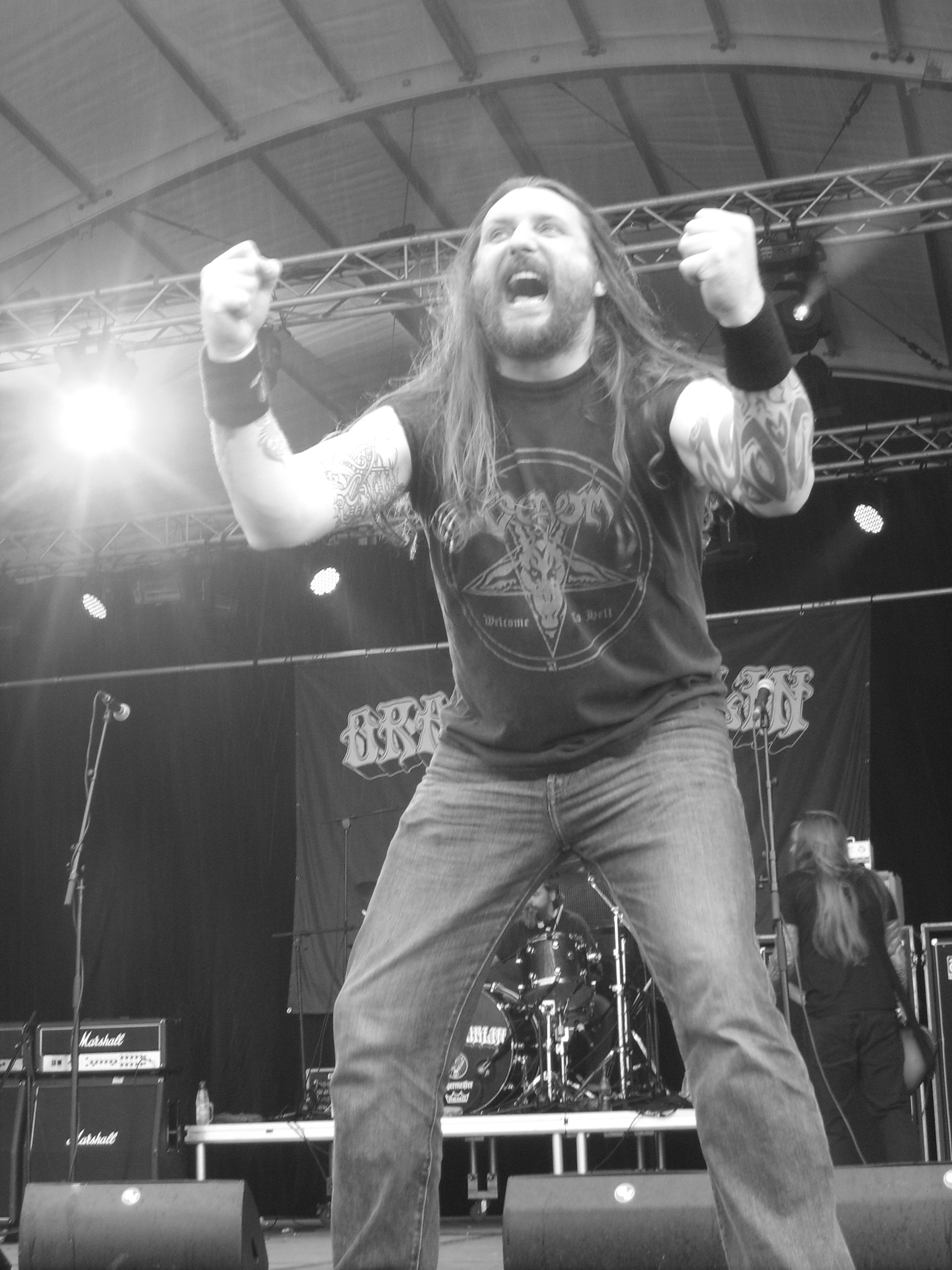 Keep of Kalessin" title="Search for Keep of Kalessin">Keep of Kalessin
Apparently they turned into a three piece, since the last time I've seen them. They have a new, very young drummer, which really stood out! They gave a decent show, but it got slightly boring in the end. Their guitar/vocalist also tried to sing clean, but failed miserably! Please, keep to your grunts and screams…
Cryptopsy" title="Search for Cryptopsy">Cryptopsy
All of a sudden they were back with a self-released album! Canadian long lost blast-master heroes of Cryptopsy, did what they do best and play brutal and ultra-fast. A ridiculous tight band played a best off set which resulted in a big pit in the tent-stage. Welcome back boys!
Peter Pan Speedrock" title="Search for Peter Pan Speedrock">Peter Pan Speedrock
I really love that the organization booked PPS as well. They are simply the biggest Dutch metal/rock 'n roll band which our country has. It had been a while since I've seen them. They started off their set with a good Hank III intro. During this intro and their set, the sun started to shine again. What followed were a great set of old and new material and a big party in the sunshine. Off course they brought their living mascot; Dikke Dennis with them. He performed 'Senoritas' of their second album and as always his own version of Motorheads 'Ace of Spades', called 'Schoppen Aas'. Great show, they put a smile on my face.
Marduk" title="Search for Marduk">Marduk
Swedish black-metal commando called Marduk, headlined the tent-stage. With a really loud, harsh and fierce sound, they literally blasted everyone present to mush! Luckily they played some of the slower songs as well, that gave the crowd some breathing-air. Punishing set! " title="Search for ">
Testament" title="Search for Testament">Testament
The Bay Area thrash-legends Testament had the honor to headline the second day of the festival and actually end the whole fest! I'm not sure what happened before, but somehow Testament and their crew succeeded in starting almost one hour later then intentionally planned! The crowd saw before them a lot of people running around on stage, but nobody actually did a fuck at all! Strange beginning… When they finally started, everyone was wet and tired, so the response wasn't as big as the band hoped! The set list unfortunately existed out of a lot of newer material, so for me personally it didn't do much! Another thing that bothers me was the attitude the band had on stage… Almost no communication with the crowd in the field. To me it almost felt like arrogance, since all those people waited for more than an hour in the fucking rain to see you finally play! In the end they pulled out the classic songs like 'Into the Pit', but for me the damage was already done…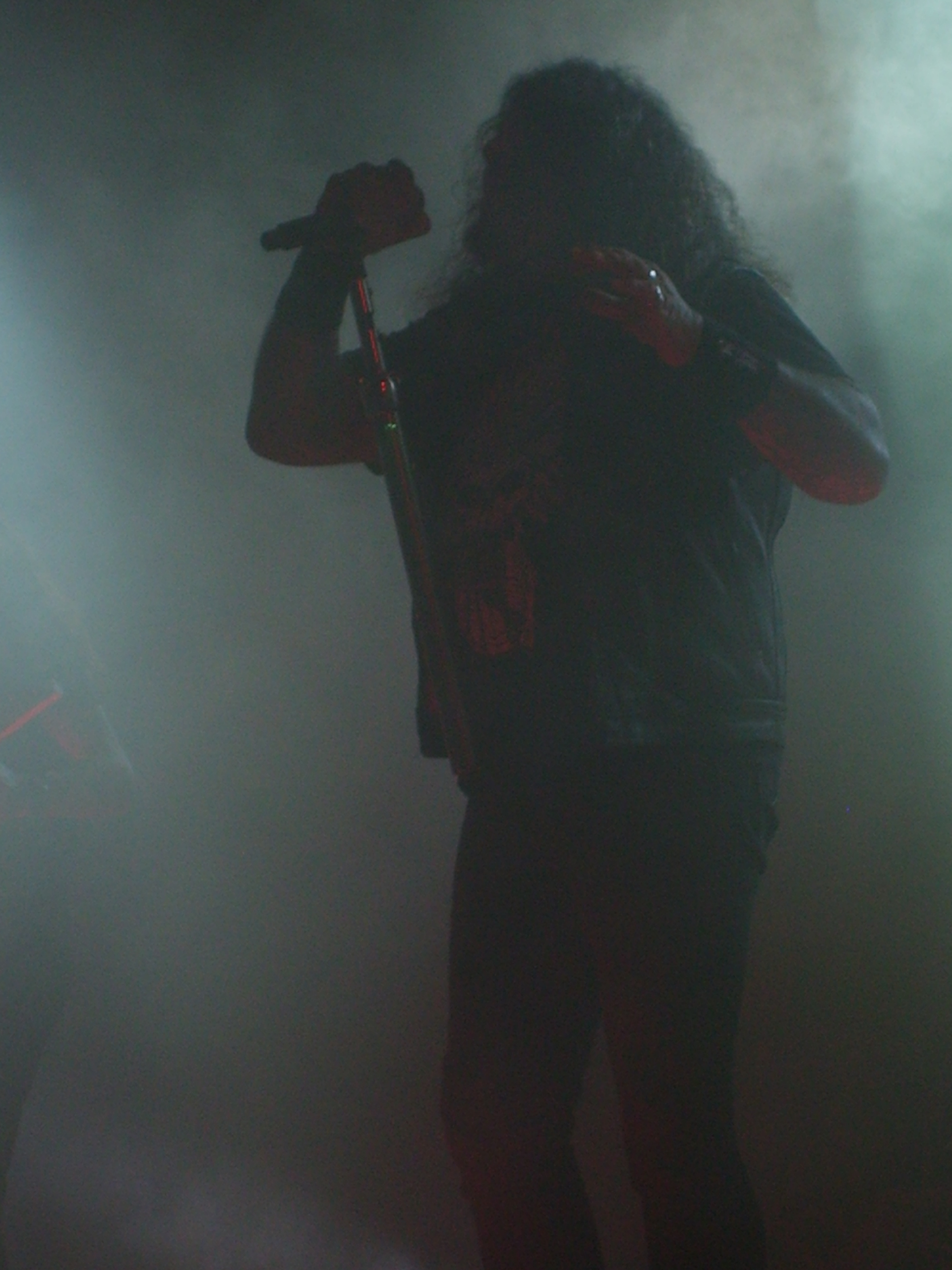 Hope to see some sunshine at next year's Dokkem Open Air edition, because the organization pulled off a good edition.
(All pictures : Lindsy Bouten)