Note To Amy was founded in 2005 and hasn't remaind unnoticed since. Three of the songs of their first demo were used by MTV's program "6pack" and the song "
Mrs. Insane
" won the online competition "Burnout Bandslam" which was organized by Electronic Arts. This album must be a good one then! (A bit short though.)
And it is not a bad album! Great guitar riffs accompanied by steady drums and basslines (which are a bit too simple though), I'm just really not vibing the vocals here! But what am I missing furthermore? I don't know whether it is the production of the album or the band itself, but something is definitely missing. (Besides the other 20 minutes at least, that somehow didn't make the album) It's definitely not talent these guys lack, but it's power. The vocals especially can't quite seem to catch up with the great, driven guitar riffs. The drum starts to get a tad too easy and the bass follows the bass notes of the guitars a little too much.
And that is a crying shame, because like I said earlier; these guys have got talent! The music is well arranged and keeps on surprising its listeners. The great diversity in the songs keep this album exciting untill the end. Especially the song "Mrs. Insane" is a fantastic song! A good and loud intro followed by a well arranged rocking song!
All in all
Note To Amy
is band to keep in mind. This album is pretty good, but not convincing enough yet. I am really curious though, what this band holds for us in the future!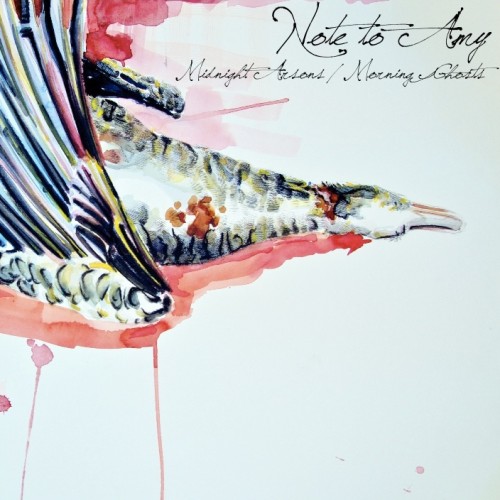 67

/

100

1
Details
Independent
Released on Tuesday Oct 9th, 2007
Emo
Writer
@LondonCustoms
on Tuesday Oct 9th, 2007
Tags:
#note to amy
Tracklisting
1. Tomorrow starts where sorrow ends
2. She's caged while we're at work, but it's for her own good
3. Love for fire
4. Mrs. Insane
5. Amy
Line up
Remco - Vocals
Marco - Bass
Eelco - Guitar
Guy - Guitar
Wouter - Drums