The 5 dutchies of Note To Amy are certainly not completely strangers to me. Their first full length album called Midnight Arsons Morning Ghost that was released in 2011 made quite an impression on me. You could say that I wasn't alone in this since it has led them across severalnational and international stages as well a clubtour with the Basque guys from Berri Txarrak. Add to this the fact that they've opened before bands like Death By Stereo, Ignite, Mucky Pup, Silverstein and Coheed And Cambria and you'll know that there was a huge amount of pressure on this next album.
Life Is Not Enough
was released on
White Russian Records
. A small independent dutch punk and hardcore label were passion and friendship are really important. I'll get back on that later. The first couple of songs got me instantly on the edge of my seat. "
Strummer = Death
" comes in like a good punkrock song should, fast and energetic. But where you probably would expect another fast song as it's successor have these guys a completely different approach. They shift back 1 gear and give their vocalist the complete freedom to spread out. This mixture turns out really good especially with the addition of Maurice Bolier from their labelbuddies of Call It Off on the third song of the album, "
Why Are You Doing This?
". With "
Punch Drunk Syndrome
" there's another up tempo song where the emphasis lies more around the riffs of the guitarists and back is that straight forward punkrock feeling.
This variety in songwriting isn't completely strange from these guys. Their debut album had the same kind of variety but back then they had a lot of songs that where probably written over a couple of years time. Most of them were really awesome songs but that album wasn't album on its own. The songs were great but there's wasn't much of a mutual connection between them. With Life Is Not Enough they've certainly shown that they don't have that problem anymore. The complete album is coherent and exists of great songs that sometimes have a fast punkrock attitude, a melodic hardcore approach or sometimes a more poppunk feeling.
The reason why they're able of varying a lot of styles is probably because their amount of influences ranges very widely. But more important in my opinion is that, according to their site, the guys are not only band mates but also very close friends. This gives that typical 'I already knew what he was going to do' feeling over it, which gives the album more spontaneous feel over it. But it's probably not only the friendship between the bandmembers that's important but also between other bands. The fact that labelmates The 101's, Call It Off and Smash The Statues contributed in gangvocals as well the guest vocals of Marco Roelofs from the famous dutch punkers of The Heideroosjes shows exactly what I mean. These guys prove that friendship isn't a just a word, it's a way of rise above yourself.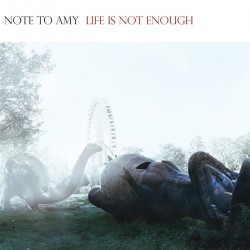 Tracklisting
01. Strummer = Death
02. Going Down
03. Why Are You Doing This?
04. Punch-Drunk Syndrome
05. It's Always 5 A.M.
06. Here They Come Now
07. Escape Act
08. April 3rd
09. Nightwalkers And Daydreamers
10. The Moon Isn't Your Friend
11. The Difficulty Of Breathing
12. About Murder
Line up
Remco Tuns - vocals
Eelco Klein Overmeen - guitar
Guy Schwartzmans - guitar
Marco Flohil - bass/vocals
Wouter Dielesen - drums