'Koi No Yokan' is the sense you feel upon first meeting a person that the two of you are going to fall in love. It is also the seventh effort by Sacramento based metal band
Deftones
. It is the second album without bass player Chi Cheng, who suffered serious injuries after a severe incident back in 2008. In the past months the band has released Tempest and Leathers as two new tracks coming from this album.
In the past 15 years
Deftones
has released about 6 master pieces and baffled many metal lovers around the globe. Changing and evolving their sound along the way they managed to keep many of their solid fan base on board.
Once again the band chose producer Nick Raskulinecz, who also did the previous record 'Diamond Eyes', and this can be clearly heard on the album. The more dynamic and melodic songs also remind me of the 'White Pony' album. Must hear tunes of this record are Poltergeist, Tempest, Gauze and Goon Squad.
With 'Koi No Yokan' Deftones delivers their 7th master piece. In the past week the album already has been played countless times at work, in my car and on my phone. Deftones fans do not need to be convinced to listen to this one. But if you never gave them a chance, or never listened to them before (and yes, they exist), please give this one a spin. It is most definitely worth it.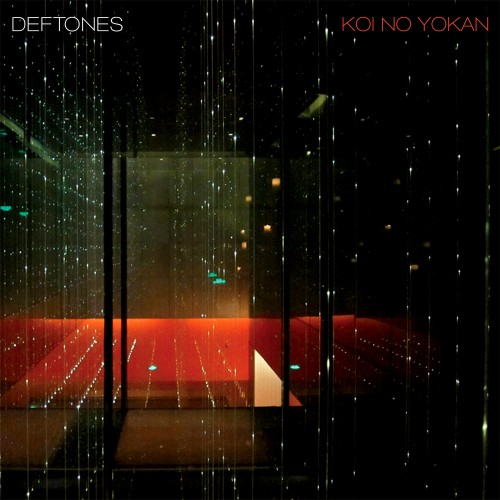 Tracklisting
1. "Swerve City" 2:44
2. "Romantic Dreams" 4:38
3. "Leathers" 4:08
4. "Poltergeist" 3:31
5. "Entombed" 4:59
6. "Graphic Nature" 4:31
7. "Tempest" 6:05
8. "Gauze" 4:41
9. "Rosemary" 6:53
10. "Goon Squad" 5:40
11. "What Happened to You?" 3:53
Line up
Abe Cunningham − drums
Stephen Carpenter − guitar
Frank Delgado − samples, keyboards
Chino Moreno − vocals, guitar
Sergio Vega − bass