Fortarock
had its fifth anniversary this year which resulted in a XL edition since they had the opportunity to book Rammstein. Over the last couple of years Fortarock has presented itself as a small and cozy festival and of course the location of Park Brakkestein was also mainly responsible for this. There was only one big disadvantage about this park. The organization wasn't allowed to crank up the volume due to restrictions. Since the beautiful city of Nijmegen has another way bigger park that is called Goffert park which has been used for rock concerts in the past it was a small step to take. Since I've been in the Goffert Park before I was pretty skeptic about the whole thing. Why? Quite simple, the coziness and small scale of this festival was always a major selling point to me. The fact that I heard about 39k cards already being sold one month prior to the festival didn't help either. (eventually they sold almost 50.000) Sadly enough my skepticism became true. The atmosphere of previous editions was completely gone. The whole day you were standing in line. To grab a beer, to grab a snack and even to take a piss. Luckily enough there were some nice performances to ease the pain. (Niamen)

All pictures by Paul Verhagen (Achrome Moments) - http://www.achromemoments.nl/
The first act of the day was
Amenra.
Not the average band to start a festival with, but since the organization of Fortarock always has a goal to book at least one none mainstream act this Belgium act had the honors of opening up. Over the years the band did create a nice atmosphere on stage since most of the time the band members are playing with their backs towards the audience. This day was slightly different since the vocalist was the only one with his back to the audience and even he did occasionally turn around. Aside from the whole turn around thing the guys did create again a great atmosphere onstage. A lot of smoke and intense black and white visuals backed up their music. Great show and considering the massive response from the audience I wasn't the only one. Personally, the best show of the day. (
Niamen
)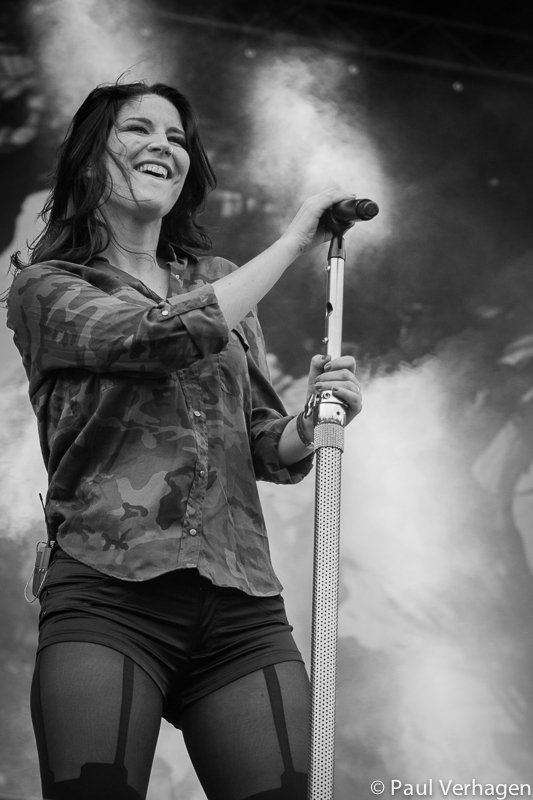 The Dutch act
Delain
had the honor of opening the main stage. Apparently they did a good job. Still it's really not my band, but it's nice to see that we in Holland have yet another act with a female vocalist that certainly contains some talent. (
Niamen
)
AmenRa immediately raised the bar to a high level on this XL edition, but unfortunately the next band on the same stage couldn't top it. Or even get close to it. The Norwegians from
Enslaved
have been around since 91 and started out as a straight forward black metal band. Very soon they embraced a more progressive approach and this resulted in amongst other 12 studio albums and several Norwegian Grammy's. Although being successful these past years today it didn't have much impact. With the focus on their last album
RIITIIR
they sure played well, but it seemed to me they lacked the persuasion to make this a memorable one. (
Gilles
)
One of the acts that really drew my attention in the last couple of months are the guys from
Hacktivist
. They released an EP called
Hacktivist
last year and are a rising star within the Djent metal community. With only a 30 minutes performance they showed us that they are way more than just a djent metal band. The band lays down a nice steady groove for the two vocalist to rap to. The interaction between the two vocalist and the audience are also pretty cool. Maybe it's a bit puberal to ask everyone to lift your middle fingers but at least they are giving 200% onstage and dragging along the audience while doing so. Great performance! (
Niamen
)
A day before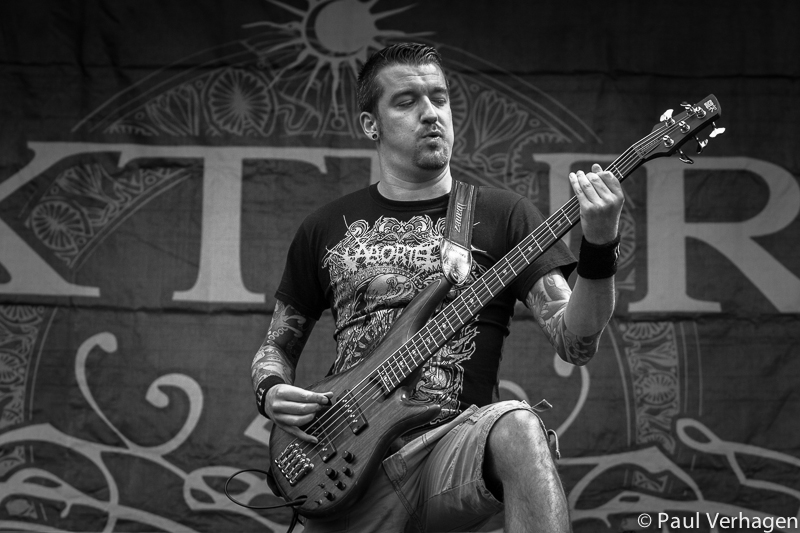 the festival we received news
Five Finger Death Pu
nch
cancelled all their gigs that weekend due to unforeseen logistical conditions. It's a tough nut to crack when seeing pictures of them enjoy the city of Amsterdam just a day before, but let's give them the benefit of the doubt. As a replacing act the Dutch guys of
Textures
stepped up. They did have a new guitarist, who seems to fit in perfectly, but furthermore no surprises. Familiar songs, familiar performance and entertaining as always. (
Gilles
)
With the beautiful '
Awoken
' intro and the crushing '
Endzeit
'
Heaven Shall Burn
kicked in hard and heavy. The tent was fully packed and even outside the tent many people tried to catch a glimpse of these German metalheads. With a high energy level they delivered some quality tunes from past and present. Both songs from their new Veto record as older ones like '
The Weapon They Fear
' and '
Voice Of The Voiceless
' were welcomed by the audience with an impressive response. All in all a nice show of a great festival act. (
Gilles
)
For the the O'Keefe brothers of
Airbourne
it's pretty obvious AC/DC is one of the best bands in the world. Especially since their music is pretty much a copycat of that band. But since they are from Down Under as well and do know the term showmanship they get away with it very easily and certainly since they create some nice tunes while doing so. Quite an entertaining show which involves some stage climbing from the frontman en playing a solo at the top of the stage, tossing cans of beer in the audience and of course a lot of rock n roll. Along the way the new album that's recently released is honored with the title track '
Black Dog Barking
' as well as the single '
Live It Up
'. Move over AC/DC! (
Niamen
)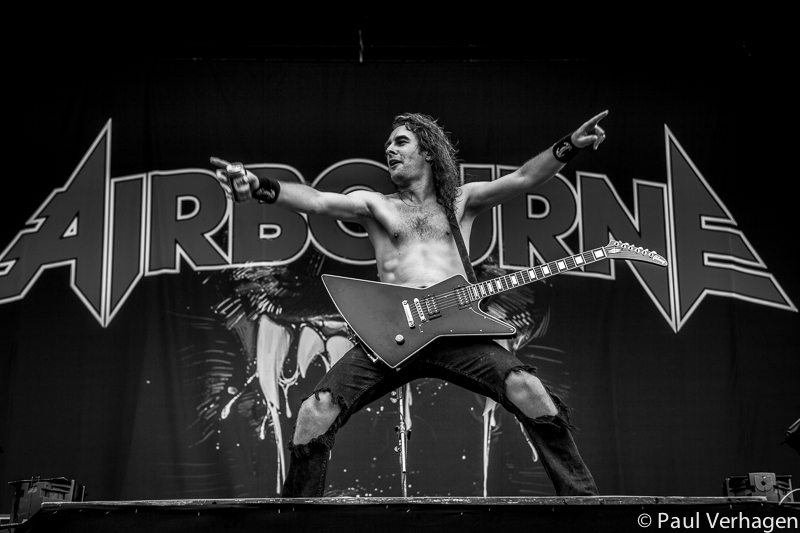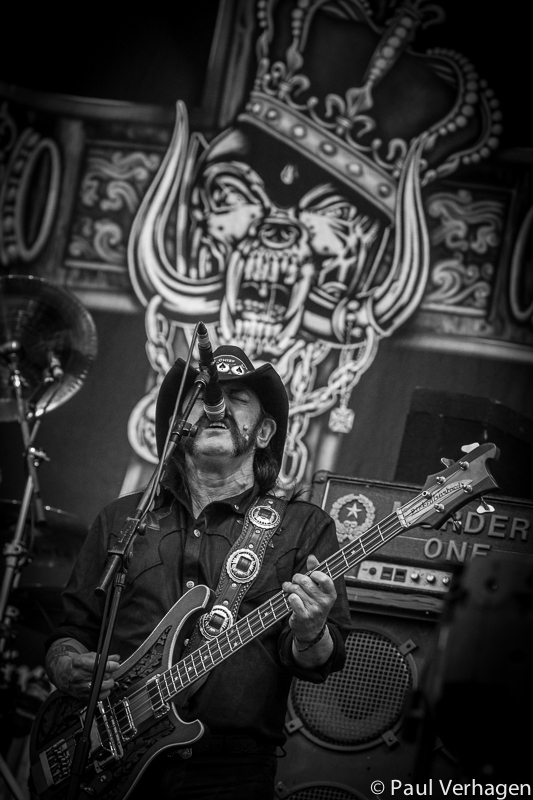 "
We are Motörhead and we play rock 'n' roll!
" That one sentence basically says it all and makes a review almost unnecessary. No bullshit, no tricks, just plain and simple rock 'n' roll. Nothing more, nothing less. I didn't have the impression
Lemmy Kilmister
was totally aware of the city he was in or in front of how many people he was playing, but even a
Motörhead
show on autopilot is an enjoyable one. We wanted some classics, we got some classics. (
Gilles
)
Amon Amarth
was one of the other acts that I really was looking forward to. Not only because they drew a certain amount of viking metal enthusiasts with drinking horns to the festival which I always find very amusing, but also because the band itself manage to create an awesome sound. Their new album
Deciever Of The Gods
is about to get released upon humanity and is briefly mentioned by the vocalist when they play the title track. It's probably one of the fewer times were the entire tent, which is packed by the way, is not directly clapping along or banging their fists in the air just because they don't know the track yet. With '
Guardians Of Ashgaard
' and '
Twilight Of The Thundergods
' at the closing of their set it's pretty obvious that
Amon Amarth
did gain some fans this day. (
Niamen
)
Commercially they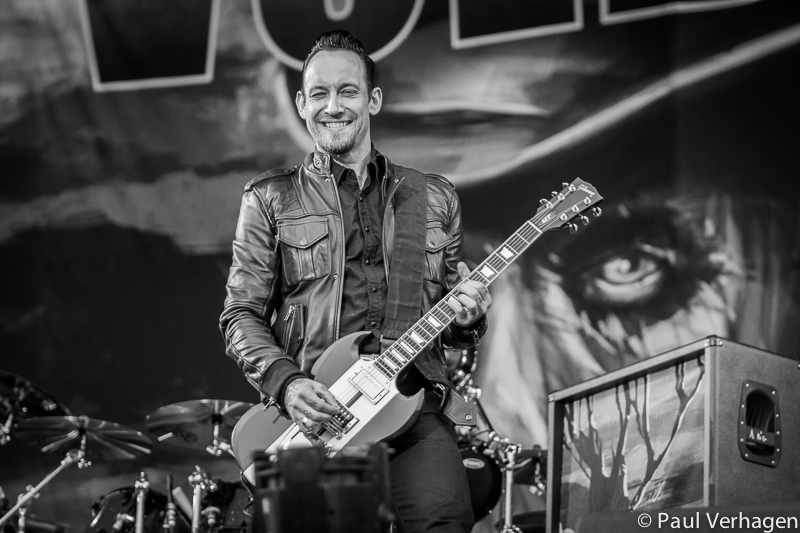 have a lot of success lately, but
Volbeat
isn't really loved by every single metal fan. When you have this typical sound you can expect two extremely different opinions and almost nothing in between. Today this Danish dynamite did a fine job and the field was fairly packed, but I also noticed many people standing there just because they wanted a good spot at the Rammstein show. With all the metal violence this day it however did was a nice break to catch some breath before going crazy during the three headliners we were up next. (
Gilles
)
It is always a pleasure to see
Opeth
play. Especially when they are playing some of their heavier material again. After the release of Heritage back in 2011 following a European tour where the band only played their more melodic material. I walked into the tent while the band started playing '
Ghost of Perdition
' and the first thing I noticed was the pitch perfect sound. Like always they deliver top shelf quality and the funny conversations in between songs by front man
Mikael Åkerfeldt
are always a nice addition to the show. The band closed their 6 song set with epic masterpiece '
Deliverence
'. One of the highlights of the day. (
Buzzin Hornet
)
Hatebreed
came, saw and conquered! These metal/hardcore giants know the drill and they pushed it to the limits. Didn't matter whether they played their new "single" '
Honor Never Dies
', a classic like '
Empty Promises
' or for example the Slayer cover '
Ghost Of War
', the people loved it and went berserk. As always frontman
Jamey Jasta
's interaction with the crowd was great, the band played very solid and time flew by. Such a concert costs so much energy, both for the band as for the audience, but besides that fact they could easily have played for another hour or 2 and not get boring at all. No matter what, if they keep on putting so much energy in their future shows they simply won't give a shitty performance. Ever. Out of the fucking question. (
Gilles
)
And after some amazing performances and seeing and hearing great music it was time for something completely different.
Rammstein
. And with completely different I mean seeing a
Rammstein
show is more comparable with going to the theater than going to a concert. Both Niamen and myself have a different opinion whether this is a negative thing or not. When going to see
Rammstein
or visit a festival or any other event in general I want to be entertained. One way of being entertained is by listening to qualitative good music, but this is not the only way. A surprising stage show, an energetic performance or impressive visuals can also result in an interesting / entertaining night. And after seeing
Rammstein
this night I was completely satisfied. Niamen wasn't as enthusiastic as I was however… (
Gilles
)
You probably all know the band started with all the fire and stuff on stage because
Till Lindeman
had nothing to do onstage while he was singing. We all know the performances of
Rammstein
during songs like '
Buck Dich
', '
Mein Teil
' and all the other songs where they do have a nice act too. But the question that resides in the back of my mind is quite simple. If all those things got stripped from the show would the songs held up the show or not. I still consider everything that was created after
Mutter
not good
Rammstein
material. Songs like '
Mein Teil
' and '
Pussy
' are nice but don't even come close to '
Ashe Zu Ashe
', '
Buck Dich
' and '
Sonne
'. Don't get me wrong the show was pretty nice but in the end I got the feeling that the music was inferior to the show and seing
Till
riding a giant cock that is squirting foam over the audience during '
Pussy
' didn't made me think otherwise… (
Niamen
)
After a skeptic start about the size of the festival we must admit we had a great day. But this wasn't the FortaRock we fell in love with. This wasn't the cozy, relaxed day in the park, this was pure commerce. We wouldn't mind if they'd sold 10k tickets less. Financially it would have been bad for the organization, for the experience of the visitor it would have been much better. Oh, and please get some mobile traffic poles next time.