Swallow The Sun - New Moon
The first time I heard about the Finish doom/death metal band Swallow The Sun was in 2007 when they released their third full-length album
Hope
. A great record that still often makes its way to my stereo. I missed out their last EP
Plague Of Butterflies
, but when I heard about an European tour I definitely had to go. Unfortunately their live performance wasn't that great at all, so I didn't have real high expectations for their new record
New Moon
. Luckily they totally proved me wrong on this one!
After three albums the general opinion about
Swallow The Sun
was that they were walking a dead end road. Progression would be hard or even impossible. Whether or not it has something to do with the line-up change, (
Kai Hahto
(Wintersun) is the new man on drums), they succeeded in reinventing their own sound. Right from the start with '
These Woods Breathe Evil
' you'll notice the distinctive
Swallow The Sun
-sound, but there's more. The biggest change is the tempo. '
These Woods Breathe Evil
' is way more up-tempo (less slow) than older songs. The band has been evolving in the direction of melodic death metal and this opens new doors, while old ones not necessarily have to be closed.
Besides the more melo death approach, also the voice of singer
Mikko Kotamäki
has improved a lot. Both his grunts as his clean voice sound more powerful and moving at the same time. The times
Kotamäki
uses his grunts and clean voices are furthermore perfectly balanced and the addition of singer
Aleah
(That Witch Remains, Trees Of Eternity) is a beautiful one during '
Lights On The Lake (Horror Pt. III)
'. This song switches from a sensitive ballad into a death/black metal song and back. This track and the almost 9 minutes long, intriguing '
Weight Of The Dead
' are the best proof
Swallow The Sun
's band members are masters in songwriting and don't avoid experiments.
Hopefully they will keep evolving and experimenting, cause New Moon shows us that doom has edges that still are undiscovered. Too bad I've only discovered this record now, 'cause it would definitely have made its way to my 2009 year list.
P.S. It has nothing to do with sparkling vampires! Thank God!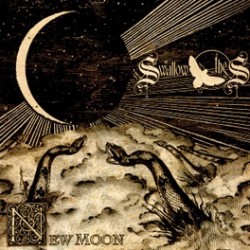 92

/

100

1
Details
Spinefarm Records
Released on Saturday Nov 21st, 2009
Doom metal
Writer
@Gilles
on Tuesday Mar 2nd, 2010
Tags:
#swallow the sun
Tracklisting
01. These Woods Breathe Evil
02. Falling World
03. Sleepless Swans
04. ...And Heavens Cried Blood
05. Lights On The Lake (Horror Pt. III)
06. New Moon
07. Servant Of Sorrow
08. Weight Of The Dead
Line up
Mikko Kotamäki – Vocals
Juha Raivio – Guitar
Markus Jämsen – Guitar
Matti Honkonen – Bass
Aleksi Munter – Keyboards
Kai Hahto - Drums