Field Rotation - Fatalist: The Repetition of History
It's snowing outside when I listen to Fatalist: The Repetition of History, the newest work of Field Rotation. The beautiful mixture of ambient en classical instruments is warm and gives you the best feeling on this cold winter day. Mesmerizing and dreaming in front of the window snow flocks are falling down, with the music of German artist Christoph Berg (mastermind of Field Rotation) filling the ether there is no need to go outside.
Imagine a mix between
Max Richter
and
Stars of the Lid
and that's how the sleeping room creations of
Christopher Berg
sound. He first put out some limited releases and online releases before he was picked up by Denovali records that already put out several old releases on vinyl. What makes this new album so outstanding? It's the eye for details and at the right moment entering the right atmosphere with the chosen instrument.
Starting off with
'The Uncanny'
beautiful but subtle melodies are hidden behind darker textures before the volume is going louder towards a climax. The classical influences are shaping the melancholy of
'Valse Fatale'
with the violoncello of
Aaron Martin
and the classical schooled vocals of
Mari Solaris
.
'Fatalist'
is like a soundtrack for a haunting thriller with a repeating low guitar tone together with a high violin sample that coming in and fading out of the song. This sinister hear play is continued in
'History (Fragment)'
.
At first you, the metalhead might taught what is
Field Rotation
doing on this webpage but this record and especially the first part is more haunting and darker than a bunch of metal records these days.
'The Repetition of History'
has again a violoncello woven into the soundscape; the song simply symbolizes hope. In the 11 minute
'The History of Repetition'
this feeling is continued and repeated until we finally dream away from the difficult things in life. Although history is repeating again and again through the ages there is always hope, this seems to be
Christoph Berg's
message in these compositions.
One day after Valentine's Day this record is coming out on CD and vinyl. It could've been the perfect present to surprise those who are not scared of a (sometimes) dark combination of ambient, soundtrack music and neo classical influences!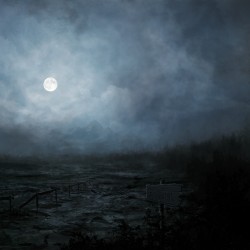 Tracklisting
1. The Uncanny
2. Valse Fatale
3. Fatalist
4. History (Fragment)
5. The Repetition of History
6. The History of Repetition
Line up
Christopher Berg - All instruments
Violoncello - Aaron Martini
Vocals - Mari Solaris