With Fearless Vampire Killers on my digital doormat I haven't received a copy of Roman Polanski's 1967 comedy horror film, but the English "
theatrical alternative rock
" band that has just released its second full-length album. When you would see some photo's of this band it wouldn't be necessary to name them theatrical and with alternative rock emo pop is meant. Emo scene doesn't really have a good name, so I understand why they avoid it, but that's just plain and simple what these guys bring us with the release of
Unbreakable Hearts
.
They've toured with a band like Black Veil Brides and when combining this with the poppy songs from bands like My Chemical Romance and Fall Out Boy you've got yourself
Fearless Vampire Killers
. In some way I can't bitch about this new album at all, because they did everything according to the book. But that's at the same time also probably their biggest disadvantage. Their whole album isn't really surprising and they never make it a thrilling listening experience. Especially with a length of over an hour this record is just too damn safe.
The vocal lines, the catchy rhythms, the basic rhythm section, everything is just too perfect, it's too damn sugary sweet it makes you sick in a blink of an eye. When liking the previously mentioned bands, you might enjoy giving this disc a spin. Personally I think I need an extra dental check-up, cause this kind of sweetness could have seriously damaged my tooth enamel.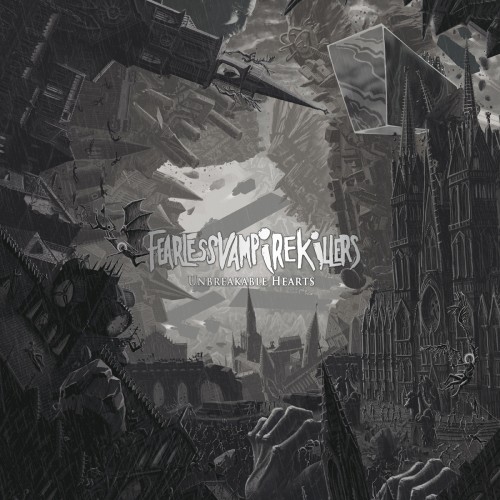 Tracklisting
01. Intermission
02. Say What You Want From Me (The Ghost You Left Behind)
03. Turn Your Heaven to a Tomb
04. Exploding Heart Disorder
05. Edge of Eternity
06. Taste the Iron on Your Lips
07. Our Nature's Unnatural
08. Dream of You
09. Brave the Night
10. In Wondrous Rage
11. Neon in the Dance Halls
12. Batten Down the Hatches
13. Maeby
14. Unbreakable Hearts
15. Remember My Name
16. Lucifer's Shroud
17. City Falls to Dust
Line up
Kier Kemp - Vocals
Laurence Beveridge - Vocals
Cyrus Barrone - Guitar
Drew Woolnough - Bass
Luke Illingworth - Drums