If people ask me what my favourite band is, I always have to think for a moment. I know so many good bands, and I discover many more each month. But some bands are always in my list. Satyricon is one of them. I can listen to Satyricon in any mood. It gives me energy when I feel drained, it gives me more energy when I'm fucked up, and I love it while I'm driving. So you can imagine I needed the new record, 'Now, Diabolical'.
Satyricon
changed their style through the years. The first
Satyricon
release, 'Dark Medieval Times', which they released in 1993, was dark black metal with some influences of folk. Through the years the music changed, like the line up. Only Satyr and Frost are the true members of the band. When
Satyricon
released 'Volcano' in 2002, I was overwhelmed by the music. And the same thing happened to me when I listened for the first time to 'Now, Diabolical'.
But has the music changed again? Well, yes and no. It surely reminds me of 'Volcano', no doubt about that. But it is also refreshing again. When
Satyricon
was really getting groovy on 'Volcano' I thought that had to be the climax, it could not have been done any better. Well
Satyricon
did everything they could and produced an album which is even better, with more groove, more aggression and more power.
I hear you all thinking. "More groove? Is it still black metal? " Yes, because despite the groove, Satyricon still is able to create a dark and sinister feeling.

The song 'K.I.N.G.'…. how shall I describe it? Awesome!!! It makes you want to bang your head off, scream 'till your tongue begins to burn, and drink beer 'till you fall face down on the ground. It has so much energy. I love it. The drums are simple and right in your face, the guitar riffs are razor sharp and Satyrs vocals give me this chill in my entire body.
And let's talk about the 3rd song. Well, I was talking about energy. Where the song 'K.I.N.G.' ends, 'The pentagram burns' takes over. Again the fantastic grooves, and even more threatening vocals. And what's that? Horns? Wow. You just have to hear it. It gives the music this extra touch.

Then there is 'A new enemy'. Damn, great drumming by Frost! If you want to throw out all your anger, this is the song. Again it is full of energy, and it really has a dark atmosphere.
I could write a whole book about the new album but I really think you all have to explore 'Now, Diabolical' for yourself. But I have to tell you about the last song 'To the mountains'. Talking about dark atmosphere. Well this song really makes you think the horned almighty came upon the earth with his legions. The way Satyr screams 'To the mountains'….. Wow! The song is so threatening. And the horns are back again, and sound even better as in 'The pentagram burns'.

And all those people who think "Black metal is not my thing", well you really have to listen to 'Now, Diabolical, you really will be surprised in a very pleasant way.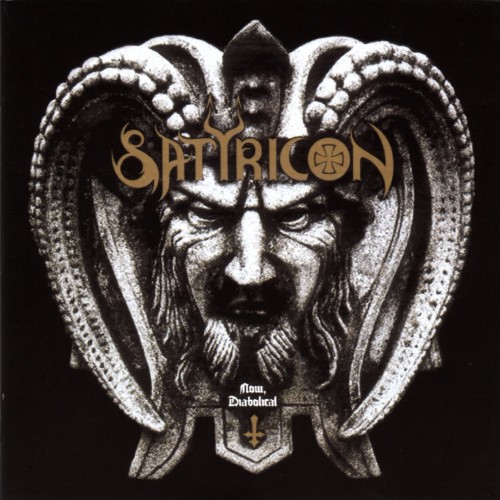 98

/

100

1
Details
Roadrunner Records
Released on Sunday Apr 30th, 2006
black metal
Writer
@Arcane
on Thursday Apr 6th, 2006
Tags:
#satyricon
Tracklisting
1. Now, Diabolical
2. K.I.N.G
3. The Pentagram Burns
4. New Enemy
5. The Rite of Our Cross
6. That Darkness Shall Be Eternal
7. Delerium
8. To the Mountains
Line up
Satyr – guitars, vocals, bass
Frost - drums