Our favorite Alaskan rockers (not that I know any other comparable band from that area) are back with their third full-lenght album on Roadrunner Records called 'Rest Inside The Flames'. The band scored big over here at Metalrage Headquarters with their previous record ' A Snowcapped Romance', which was a musical leap forward compared to the bands debut. Did they manage to make the same leap again?

One of the main goals the band had was to put more heavyness on the record because of the fact that they often heard: "hey you guys are way heavier live, I didn't expect that!". Enter more doublebass drumming, alot of great screaming and a somewhat more straight approach to most of the songs. Tracks like "I'll Go Until My Heart Stops" and "Felt Through a Phone Line" still sound typically 36 Crazyfists, with the first being a great heavy, effictive opener and the second being a great sing & mosh-along track which goes from emotional to energetic. I also want to mention that these guys are one of the few bands out there who actually manage to cover everything in a postive vibe. Vocalist Brock Lindow writes lyrics that, even if they are about a sad or emotional subject, manage to put things in a positive perspective which is definitely something that makes this band stand out of the crop of "boohoo my girlfriend left me where are my razorblades, lets steal this riff from In Flames" boybands that we see on MTV these days.

The presence of Killswitch Engage's Mr. T. (Howard Jones) and some great riffage by Steve Holt make "Elysium" one of the best songs the band has written, definitely upping up the Metal-factor. Another personal favorite is the heavy "Will Pull This In By Hand", which has a great midsection riff that will probably make it in the Riff-of-the-Year contest that should happen soon. I'm really curious to the live renditions of these kind of tracks, because they simply kick ass.

While I'm giving this record a lower rating than ASCR I am not implying that "it is not as good as" the previous full lenght. The fact that the band's debut (Bitterness the Star) contained mostly "old stuff" when it got recorded resulted into the fact that ASCR sounded very new, fresh and different. We must remember that the songwriting process for ASCR was probably much longer than the one for RITF and therefor "the jump forward" might not be as big as you might have anticipated. Personally I would have wanted the band to draw a bit outside the lines they have set for themselves, but in the end "Rest Inside The Flames" is a quality record with some of the band's best material they've written.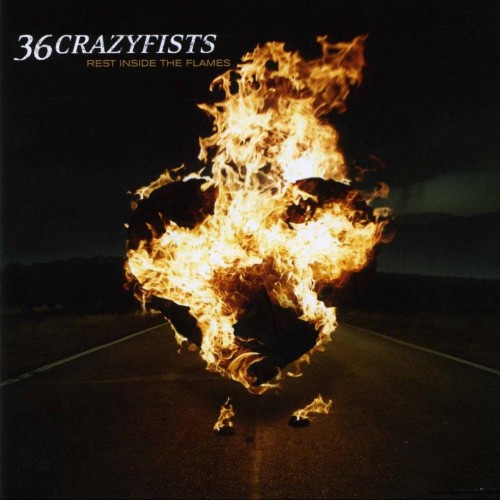 85

/

100

1
Details
Roadrunner Records
Released on Saturday May 27th, 2006
Metal
Writer
@Carn
on Saturday May 27th, 2006
Tags:
#36 crazyfists
Tracklisting
01. I'll Go Until My Heart Stops
02. Felt Through A Phone Line
03. On Any Given Night
04. Elysium
05. The Great Descent
06. Midnight Swim
07. Aurora
08. Will Pull This In By Hand
09. We Cannot Deny
10. Between The Anchor And The Air
11. The City Ignites
Line up
Brock Lindow - vocals
Thomas Noonan - drums
Steve Holt - guitar
Mick Whitney - bass