Maserati - VII
A damn late review for a record that was already released in the beginning of October 2012. I already bought it myself last year and it even ended in my yearlist. However I was still surprised to receive a promo copy of the CD and I was eager to review VII, Maserati latest and maybe best record up till now.
After the tragic death of drummer Jerry Fuchs just after
Maserati
's previous album recordings session they were supposed to call it an end. Surprisingly the news of VII came at the horizon and according to the press information the album is musically into the direction how the drummer wanted it. This means the positive and up-tempo postrock more and more has bonds with minimal techno, krautrock like Neu! And seventies electronic music as we know from Tangerine Dream (listen to Lunar Drift!).
The mixture is as balanced as the previous album and the nine songs have a spaced out layer without forgetting the pulsating beat taken care by new drummer Mike Albanese and bass player Chris McNeal. More and more it sounds like a beat from the techno scene. The energy that comes out the chemical reaction gives you a feel-good summer fest feeling but also the vibe if you are travelling in your space shuttle through space. 'The Eliminator' and 'Abracadabracab' are perfect examples to be away for several moments from planet earth.

Maserati
has planned a new European tour this April and has a spot on the legendary Roadburn festival. I hope they will play a lot of new songs, especially the above mentioned and the computer voice driven 'Solar Exodus'. The instrumental band (except for the song 'Solar Exodus' of course) once again has pushed the boundaries of the postrock genre and I hope they will do it again with new work!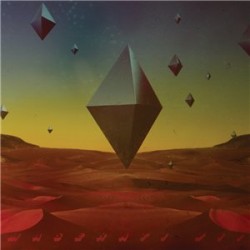 Tracklisting
1. San Angeles
2. Martin Rev
3. The Eliminator
4. Flashback
5. Abracadabracab
6. Solar Exodus
7. Lunar Drift
8. Earth-Like
9. San Tropea
Line up
Coley Dennis - Guitar/Synthesizers
Matt Cherry - Guitar/Synthesizers/Drum Programming
Chris McNeal - Bass/Vocals
Mike Albanese - Drums
Assisted by:
Steve Moore - Synthesizers
Kevin Rattleman - Additional Percussion