Here Comes the Sun is a Beatles song but also the new album of the French band Klone. It goes too far to tell they are cloning the sound of bands like Katatonia, Anathema and Tool because this album is simply too good and professional to be overlooked; however the band has similarities with these three bands.


The last ten years the French alternative metal/rock scene is gaining more and more popularity due to quality bands like
Gojira
,
The Old Dead Tree
and
Year of No Light
that are pushing the boundaries of progressive music constantly. The sixth album of
Klone
deserves the same attention. Directly from the start thick riffs are bridging with heavy ambient walls and progressive rock build ups (such as in the beginning of 'The Drifter'). To top it off, they have the great vocalist Yann Ligner who has a beautiful serene voice in the calm parts and adepts his voice over the waves in the music.
The ten songs form one big piece of coherence where all musicians are equal. The end result is much broader than the product of the individual musicians. I can talk about the subtle bass sound that is travelling through the song and has its own path while the drummer hits his kit at the right time with a genius fill or drum pattern; these ingredients are not the only ones. It would be great for the two guitarists to have these two musicians has the base to compose high dynamical songs, come up with heavy riffs and melancholy in the melodies while they never have to limit them self in a progressive way.

I forgot to talk how much 'Here Comes the Sun' positions itself as a monument of rust. In these fast times it's good a band gives the listener an album you finally have the time to overthink your position in modern life and how to continue and not only do what society and your environment defines. The atmosphere is in no way gloomy; there is hope; there is positivity. Here comes the sun!

With songs like 'Immersion, 'Fog' and my favorite 'The Last Experience' (with the fantastic post-rockish ending!) I oversee a bright future for
Klone
. A lot of shows are lined up and fans of the above mentioned bands including Porcupine Tree (who is still on a hiatus) should definitely check out this sixth album soon!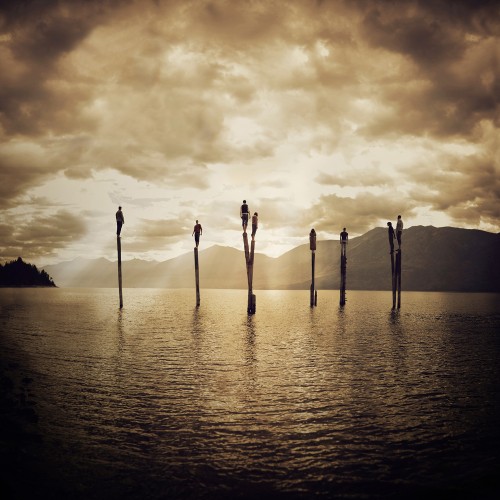 Tracklisting
1.Immersion
2.Fog
3.Gone Up In Flames
4.The Drifter
5.Nebulous
6.Gleaming
7.Grim Dance
8.Come Undone
9.The Last Experience
10.Summertime
Line up
Yann Ligner – Vocals
Guillaume Bernard – Guitar
Aldrick Guadagnino - Guitar
Florent Marcadet - Drums
Jean Etienne Maillard – Bass
Matthieu Metzger - Sax / Samples