Oneirogen - Kiasma
And once again Denovali records have found a new strange beast entitled Oneirogen. It's a project of Mario Diaz de Leon and this is his third output after an EP and an album. The album is basically made out of guitars, electronics and synths sounds to create a horrific yet bizarre output of hallucinating music. You can compare some parts of this record to Sunn 0))) or Nadja.
The distorted sounds are sometimes very dark although they can be shaped out of lighter ones. You didn't expect these sounds the first minute when the record was playing. Pretty light ambient sounds were trying to comfy you until all of a sudden a very doomy guitar riff kicks in. The low tones are combined with sick vocals and dark synthesizer sounds (the ones similar in a horror movie). There is no beat and no drum fills so this record can be seen as the electronica version of
Sunn O)))
. Without million amps and home alone
Oneirogen
has made the same feeling in the music. The doomdrone gods really wished they've recorded 'Katabasis' for their Black One album. This song is 15 minutes long, scary all over and has that Black Metal feeling you need on a cold winter night.
After this hallucinating black trip I am happy there is time to breath in
'Gauze'
that can be described as a light techno remix of Mogwai song. In the last song
'Mortisomnia'
de Leon
used his sick screams to mangle them and put them in front of the mix to create an immersing brutality with the doomy tones of the guitar. It has the same creepiness as
Xasthur
could've made with his slower and doomier black metal songs.
If
Sunn O)))
is ever going to write a Black Two record they better get in contact with
Oneirogen
. Kiasma is totally recommended for those into dark metal tones together with heavy electronic sounds!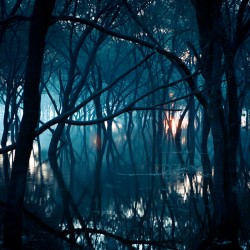 Tracklisting
1. Numina (6:08)
2. Pathogen (6:50)
3. Mutilation (7:26)
4. Imminence (4:16)
5. Katabasis (14:35)
6. Gauze (2:39)
7. Mortisomnia (7:00)
Line up
Mario Diaz de Leon – Guitar, Synths, Electronics, Voice