Lo! - Monstrorum Historia
Lo!
is from Down Under and show us on
Monstrorum Historia
they've listened to the amazing Hydrahead school of metal/hardcore that was around in the beginning century. Converge, Old Man Gloom, Knut and Botch; they all found their spot on the second album of these Aussies. As with all bands from here, there is never too less energy and aggression in the music. The four guys are men that want to kick some ass.


The first part to succeed with this branch of chaotic sludge metal and post hardcore has been done. However, and that is a matter of taste, the voice that's used the most time is a bit too growly. The music is mostly pounding hard, sometimes dragging and out of the chaotic melting pot of riffs every time a melody line or a groove is born. Some songs have outstanding breakdowns mixed up with haunting guitar sounds to impress all of you ('So Below (before we disappear)'. This song has got it all and sums up where
Lo!
stands for.
Still I cannot get my hands and ears around it what I truly miss when I hear songs like 'Fallen Leaves' and 'Bleak Vanity', I spin them and the rest of album with pleasure but I can't say I would really miss the record if I never heard the band. Maybe I already have tons of records in the same style. The band also understands how to shape the song and the biting crunch (similar to the pulling teeth of a monster on the cover) hits you like a train. So maybe it's just me who is a pathetic old grouser.

Currently they are on tour in Europe as support for
Cult of Luna
and
The Ocean
; two bands that can drag them along Europe. I bet they better can show on stage what they got than on this LP/CD.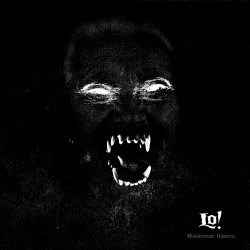 Tracklisting
1. As Above 3:23
2. Bloody Vultures 2:49
3. Ghost Promenade 4:20
4. Caruncula 3:49
5. Haven, Beneath Weeping Willows 2:35
6. Falles Leaves 4:26
7. Crooked Path, the Strangers Ritual 1:53
8. Lichtenberg Figures Lo! 3:15
9. Bleak Vanity 4:23
10. Palisades of Fire 3:41
11. So Below (Before We Disappear) 6:42
Line up
Carl Whitbread
Adrian Shapiro
Adrian Griffin
Jamie-Leigh Smith