The Shaking Sensations - Start Stop Worrying
My first introduction with The Shaking Sensations was a couple of weeks ago when they played the Dunk! Festival in Zottegem, Belgium. In a line-up with only Post Rock bands they felt well but on the same hand didn't catch the attention. You can play your version of Post Rock excellently but if you do the same as thousands bands did before the lack of an own face will float away the attention.


Listening to
Start Stop Worrying
it gave me the same kind of feeling as live. Starting with the correct atmosphere in '
Rocket Summer'
and slowly building up towards a climax is playing music exactly within the drawing line. Yes a fan of the genre (I am!) will enjoy the perfect balanced songs but also have to agree
The Shaking Sensations
copy bands like
Explosions in the Sky
or
If This Tree Could Talk
. The reverb and effect on the guitars in combination with the rolling drums and in between only the sound of echoing guitars will soon drift away your thought and dreams. This is a good thing; if you are opening your eyes and you'll awake you discover also these songs could've been written by the giants in the genre.
Denmark is the home base of the band and they are directly one of the best in their kind, however the country is small and sure they will be successful there, but outside the country I bet they only attract a small base of fanatics. Also when you listen to 'We ourselves Alone' and 'Anchors' it sounds exactly the same as the first song. The same drum patterns, the same guitar melodies and the same song structure so the trick gets boring after a while.

Halfway, the music is completely at the background serving as tunes while doing other things in house. Start Stop Worrying is objectively executed as it should, the musicians know how to play but it's too perfect and never an adventure ride. Perfect and tedious at the same time. Unfortunately. I hope the next voyage will be without less fear!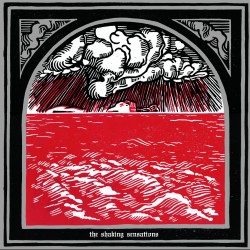 Tracklisting
1. Rocket Summer
2. We Ourselves Alone
3. Anchors
4. Gild the Lily
5. Ravelin
6. Heavy Entity
Line up
Jeppe Nygaard Christensen
Jakob Madsen
Christian Wejs Sorensen
Mads Hantho
Jena Wejs Sorensenar