Toxic Holocaust - From the Ashes of Nuclear Destruction
Band mastermind Joel Grind has always been one to wear his influences on his cut-off Denim sleeves, from bands like Venom, English Dogs and Bathory, Joel has moulded Toxic Holocaust's sound over the years in to a style that while heavily influenced by these bands, also contains a strong Thrash, 80's hardcore and punk influence.
From the Ashes of Nuclear Destruction
a collection of 22 b-sides, rarities and demo tracks that range from his humble basement beginnings right through to songs recently released on split 7"s and 12"s, is a great way to showcase these influences and how far the band has progressed over the years
.
From earlier songs such as the fuzzed out
'Reapers Grave'
and the heavily Venom influenced
'Deathmaster',
right through to the demo version of
'Bitch'
from 2011's Conjure and Command LP. It is very clear that Grind had a distinct style with the band from day one. The band has never followed trends, there is no core or mosh elements, just straight up no bullshit tunes, that do not in any way hide their influences behind them.
As you might expect on such a release, the audio quality on the compilation ranges from very average at best on the earlier demos, to a much slicker sound that can be found on some of the later tracks such as 'We Bring Em Hell' or 'Altar-ed States' which were originally featured on the 2012 split 12" with Municipal Waste.
From The Ashes of Nuclear Destruction
is clearly an album for the fans. It's not going to win over any new fans, nor is it going to win any prizes for the material present on it. Then again it was never intended to. What makes this album truly worthwhile for fans is being able to see and follow along with ease, songs that span the entire discography of
Toxic Holocaust
. Sure some of these songs may well have become b-sides for a reason, but it is extremely interesting to see how
Grind
has tweaked and evolved his sound over the years and is a much needed record for the collection of any fan of the band.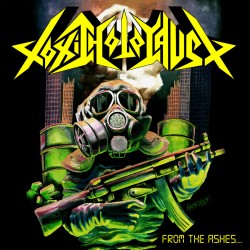 Tracklisting
1. Intro
2. Metal Attack
3. Death Master
4. Created to Kill
5. Ready to Fight
6. Arise from the Cemetery
7. Thrashing Death
8. Send them to Hell
9. Never Stop the Massacre
10. Army of One
11. Death Camp
12. Reaper's Grave
13. Death Brings Death
14. In the Name of Science
15. Nuke the Cross
16. Suicide Eye
17. 666
18. Bitch
19. Agony of the Damned
20. A.T.O.M.I.C
21. We Bring em Hell
22. Altar-ed States
Line up
Joel Grind - Vocals, guitar (1999-present) bass, drums (1999-2008)
Phil Zeller - Bass (2008-present)
Nick Bellmore - Drums (2009-present