The last couple of years thrash metal has been crawling out of the dark existence were it has been hiding for quite a while but the once so big genre is ready for its comeback. During 2013 old farts like Death Angel, Sodom, Onslaught and Gwar all came up with some good albums. Add to this the upcoming bands like Skeletonwitch, Havok, Lost Society and more or less Revocation and you'll understand that Thrash metal is back. Maybe Toxic Holocaust is able of putting the cherry on the thrash metal pie of 2013
When you read more of my reviews you'll probably know that I really hate an intro to an album. Most of the time it doesn't add anything to the music and it's annoying to skip the track every time you put the album on. So with 'Awaken The Serpents' they have already a huge plus since they have none. After a couple seconds of riffing the entire bands put the pedal to the metal and doesn't stop before the song has ended a minute and a half later. Thrash, like it supposed to be played. Fast, hard and tighter than a virgins vagina.
Luckily there's a lot more where that came from so in the next half hour i'm submitting myself to Chemistry Of Consciousness. With strategically placed midtempo songs the album pretty much doesn't get bored. Certainly since there's a crystal clear production that gives the instruments just enough room to breathe but not enough to lose that wall of sound idea. Add to this the big plus that the guitars have that dirty gritty guitar sound that combines so well with the vocals and you'll know this another great album in the year of 2013.
Chemistry of Consciousness was released on the renowned Relapse Label during the last couple of days of October. The total time of the album including a cover is a little more than a half an hour. Indeed not much if you'd ask me but. Trust me when I say the short play time is compensated by endless fury, passion, a great production and musicianship. From the first tones Chemistry Of Consciousness grabs you by the throat as an rabies infected German sherpard. I'll definitely get my denim patch filled jacket out of the closet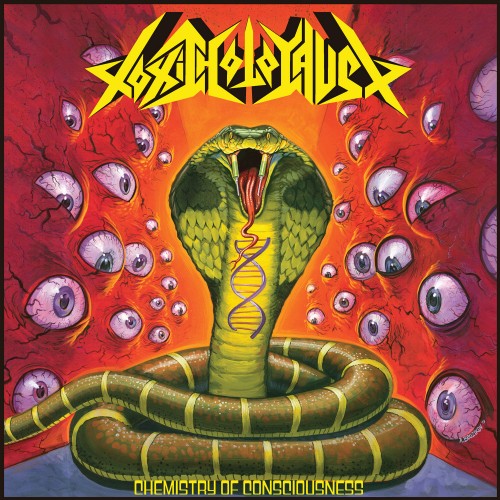 Tracklisting
01. Awaken The Serpent
02. Silence
03. Rat Eater
04. Salvation Is Waiting
05. Out Of The Fire
06. Acid Fuzz
07. Deny The Truth
08. Mkultra
09. I Serve...
10. International Conspiracy
11. Chemistry Of Consciousness
12. Wargasm (L7-cover)
Line up
Joel Grind - Vocals, Guitar
Phil Zeller - Bass, Vocals
Nick Bellmore - Drums