Which hardcore lover doesn't know the American band Terror? This band from California has already existed for 11 years, and they have been one of the leading bands in the hardcore genre for at least 7 of those years. Their last record, "
Keepers Of The Faith" was well received and lead vocalist Scott has said that this next record would be dirtier and rougher. Let's see about that.


It is immediately audible that
Terror
still puts all their energy in their songs when the first song kicks in, and push it forward to the next one. The biggest difference to the sound, comparing to the last two records,is that they returned to their old label, Victory, after two records with Century. Therefore the sound is very comparable to the record "
Always The Hard Way"
. During the song
"Cold Truth"
it is very easy to hear that the band brought their energy to an even higher level for this record and that they indeed wanted it to be rougher and dirtier.


Songs like "
I'm Only Stronger", "Shot Of Reality"
and
"Invasion"
really prove that this is another worthy album by this band. The title track is also very nice to hear. Everyone who has seen this band before can probably imagine how well this album would turn out to be.
This is one of those records that makes you want to show your moves and join the pit, either in a venue, your living room or just on the streets!


But is this a new format for
Terror
? No. Is it predictable and comparable to the previous records? Yes, a little. Does this all matter? No, and if you want to know why, then you're probably not a
Terror
fan. This band has so much energy, both live and on album, and they stand for a lot of good music and living their dreams. Their music hasn't changed and that will hopefully never happen either. The reason? The band knows what the fans want and show it quite perfectly on this record.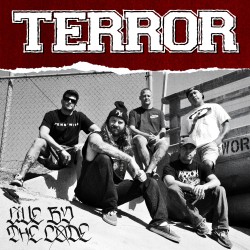 Tracklisting
1. The Most High (2:45)
2. Not Impressed (2:02)
3. Cold Truth (2:59)
4. I'm Only Stronger (2:53)
5. Live By The Code (1:51)
6. The Good Die Young (2:10)
7. Shot of Reality (2:41)
8. Hard Lessons (2:44)
9. Invasion (2:21)
10. Nothing In Your Head (2:19)
11. One Blood (2:01)
Line up
Scott Vogel - Vocals
Nick Jett - Drums
Jordan Posner - Guitar
Martin Stewart - Guitar
David Wood - Bass