Shrapnel is a new soldier on the thrash metal front
.
Hailing from England
The Virus Conspires
is their first full length after releasing an EP. England hasn't been a terrific breeding ground for thrash and I have a hard time naming a lot of great thrash bands from the islands.
Shrapnel
wears their influences on their sleeves. We're getting a mix of Kreator, Exodus, Testament and some old Slayer. So no originality to be found here, but it's more important how the songwriting skills are of these British lads. Something that's very much under developed with most debut albums.
The Britons show on The Virus Conspires that they're more than capable of writing some good bangers. Especially the title song is well written. Some nice tempo changes and even different vocal lines are being fired upon the listener, also the vibe of the song changes at the end with a chaotic spoken word part and some excellent drumming. Highly recommended song! Not every song is as interesting as this one unfortunately. After opener 'Kingdom Come' some lesser songs are on the menu, with '22' as an artistic low point. Nevertheless songs like the aforementioned 'The Virus Conspires', but also the Exodus/Testament hybrid 'Red Terror' are some mean thrashers! It's just too bad that the album starts not overly interesting, so you have to work your way through some duds, before finding some thrash gems halfway and at the end of the album.
The Virus Conspires
is not the most balanced thrash album, but still it´s worth listening too. Without noticing it even stuck in my car player for a few days, without boring the crap out of me. With the tons of albums that I listen to on a yearly basis (coupled with the unsatiable thirst for new tunes and bands) this is not something that happens often.
Shrapnel
is not taking the thrash scene by storm, but it blows quite some newer thrash bands out of the water. Promising band and an enjoyable piece of work!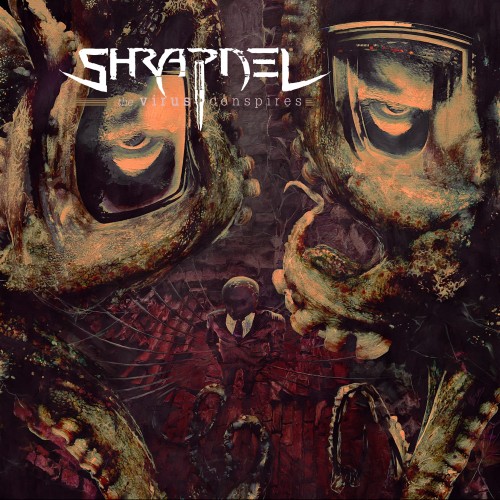 Tracklisting
1. Kingdom Come
2. Titan
3. Braindead
4. 22
5. The Virus Conspires
6. The Wake
7. Red Terror
8. The Watchers
9. Pseudocommando
10. Poison the Mind
11. All That We Know
Line up
Adam Read - Bass
Chris Williams - Drums
Nath Sadd - Guitars (lead)
Chris Martin - Guitars (rhythm)
Jae Hadley - Vocals