From down-under
Truth Corroded
spills it guts over mankind and that they don't have that much of faith in that same mankind is an understatement if we take a look at the lyrics. With
Saviours Slain
they compiled their fifth full length and their first through a bit bigger record company in AFM.
Not familiar with their previous work it's immediately clear that
Truth Corroded
their influences lay in the modern day death/thrash scene. You have to think of a mixture of Hatesphere, Lamb Of God, small doses Pantera and a huge spill of (grooving) death metal. Especially in the drumming and the riffing, the death metal influence can be found. This is not strange if you see the name
Kevin Talley
in the line-up. He brings an addictive groove to the songs, which makes it hard not to headbang along with these Aussies.
The songwriting on Saviours Slain is a bit hit and miss. The furious opener 'They Are Horror', the title number, the Gojira influenced 'Sea Of Flames' and the doom infused 'Hallowed Black Sun' are very well written songs. Not overly original, but brought with such musical skill and emotion that it really drags you into it. Unfortunately next to those killers, there are also some songs, which are faceless. 'The Fall Endless', 'Of Gods Drowned In Blood' and 'A Feeding Enemy' are on that side of the spectrum. They sound a bit too samey and would be songs on any average death/thrash metal album. This is mainly due to the one dimensional vocals (I am getting a bit tired of these kind of boring vocals), but also because of the recycled riffs and a lack of killer solos. You could say that this album is just a bit too long to keep your interest in the whole album and that's too bad, because the more interesting songs are at the end.
Truth Corroded
shows on this album that they definitely have their place in the nowadays metal scene.
Saviours Slain
is an entertaining album, which is recommended if you can find it for a reasonable price somewhere. It's just too bad that they don't show their quality on a consistent basis on this album. This makes the difference between a reasonable and a good album.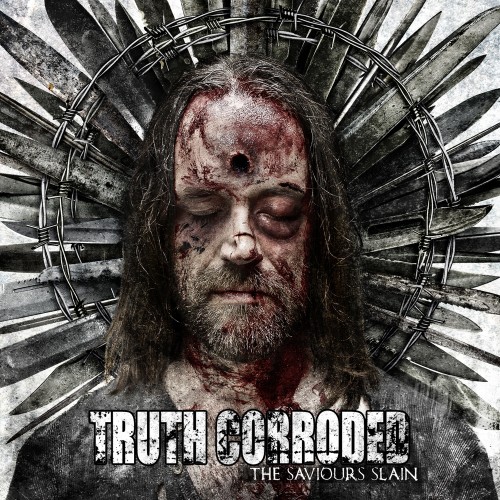 Tracklisting
1. Precipice
2. They Are Horror
3. The Fall Endless
4. It's Fear I Breathe
5. The Saviours Slain
6. Of Gods Drowned in Blood
7. As a River They Bled
8. A Feeding Enemy
9. Sea of Flames
10. Last of My Flesh
11. I Misery
12. Hallowed Black Sun
Line up
Jason North - Vocals
Greg Shaw - Bass
Corey Grieve - Guitars (lead)
Wayne Batters - Guitars (rhythm)
Kevin Talley - Drums