Catalyst
is the second EP from Dutch rock band Life's Electric. The EP was already released in the beginning of last year, but it caught my ear only recently.
Somehow it's hard to find a decent modern rock band in The Netherlands. A lot of indie kind of bands or bluesrock bands, but rock bands with an international sound are not that popular here in Holland (tips of bands I overlook are more than welcome and can be send to
[email protected]
). Luckily it seems with this EP Life's Electric is filling the void.
What we can expect on this four track record is a mixture of all kind of modern rock influences. These influences ranges (and or more often than not combined within a song) from Foo Fighter to 30 Seconds Of Mars and from some Muse like influences (in their more rock songs) to Breaking Benjamin style of music. The sound on the album is clear, modern and with guitars mixed well in the overall sound. On top of that some good vocal delivery by
Ferry van der Woude
and we have an album that ticks all of the boxes necessary for a decent slab of modern rock.
The biggest difference between a decent rock band, a mediocre rock band and an excellent rock band is being made in the songwriting department and the quality to write some infectious hooks on an album. Normally these rock bands follow some well treaded paths, which makes the competition in this genre stiff and songrwiting is the deciding and separating factor. And to cut a long story short Life's Electric posses these skills. The songs find their way into the listeners brain with a lot of ease and makes sure you want to put the EP on repeat after first listening. The highlight of the album is 'Everything I Have', which has a well written sing along chorus and the combination of Foo Fighters on their more grittiest and the cleanliness of 30 Seconds of Mars in some other parts of the song makes it a more than interesting listen.
Life's Electric is not the most adventurous of bands, but that's also not what you have to look for in modern rock bands. The execution is really good and I am curious what the band will bring on a full length, especially since half of the band recently left.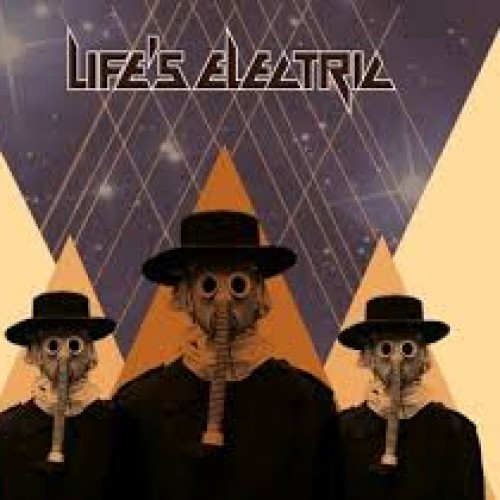 Tracklisting
1. Such A Shame
2. Everything I Have
3. We Will Have To Wait
4. Caterpillar
Line up
Gert-Jan Stehouwer - Guitars
Ferry van der Woude - Vocals
Wouter Landzaat - Bassist
Bram Gorel - Drums