Amaranthe - Nexus
With their debut album,
Amaranthe
brought something new in the pool of female fronted bands. It was poppy, had a recognizable sound, mostly due to their three different singers, and it had some catchy songs. Their second album,
The Nexus
, does exactly the same. And with that I mean exactly the same.
Most bands have a distinctive sound on each of their albums, and you can easily hear from which period of their career a song comes from.
Amaranthe
however, has not managed to take it to the next level. The result is an 41 minute album that sounds exactly the same as their debut. Apparently they decided to stick with their success formula after their first album gained them quite some success. The same synthesizer sounds are used over and over, the songs use the same build-up, and by alternating the three voices on every single track, no song sounds completely different than the other. They aren't big on creativity and refreshing sounds. Oddly enough there are no ballads to be found on the album either, except if you have a version with acoustic bonus tracks. This does not help differentiating between the songs, nor with the balance of the album.
It is not all bad though. Title track of the album,
'The Nexus
', has hit potential, and it is no surprise it has been released as a single. It's quite catchy, and no one can deny
Elyze Ryd
looks good in a cat suit in the video clip that accompanies it. I even catch myself liking it. As for the rest of the album, only
'Razorblade'
and '
Electroheart'
are songs I remember and recognize after a couple of listening sessions. The rest does not stick out, or makes me think "didn't they have a song exactly like this on their previous album?".
It's also a shame that all vocals are overproduced on this album, creating the feeling that the singers - including Ryd - need the effects to sound good, while I know she can hold her own during a live performance.
With their second release,
Amaranthe
has not gone beyond being a pop rock band that flirts with metal. If that's your thing, you'll probably enjoy the album. But if you're looking for an epic album that can last through the ages, I suggest you leave this album for what it is, and move on.
Review written by - Christine Zuiderent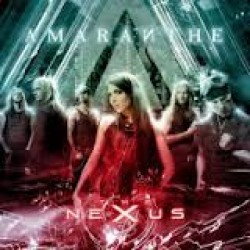 Tracklisting
1. Afterlife
2. Invincible
3. The Nexus
4. Theory Of Everything
5. Stardust
6. Burn With Me
7. Mechanical Illusion
8. Razorblade
9. Future On Hold
10. Electroheart
11. Transhuman
12. Infinity
Line up
Elize Ryd - vocals
Andy Solvestrom - vocals
Jake E - vocals
Olof Mörck - guitars, keyboards
Morten Løwe Sørensen - drums
Johan Andreassen - bass