Past Saturday it was time again for the 7th edition of the Fortarock festival. It all started back in 2009 in a cozy little park called Brakkenstein in the city of Nijmegen for the biggest metal festival of the Netherlands. This edition of the festival was held at the famous Goffertpark (their homebase since their lustrum). With 15.000 metal fans, 18 bands covering the whole range of heavy genres and while being warm and sunny this was a perfect day for a great party. This year maybe not the biggest headliner of them all, Iron Maiden en Rammstein on the last 2 editions versus Slipknot on the current one, but it made the atmosphere almost even better.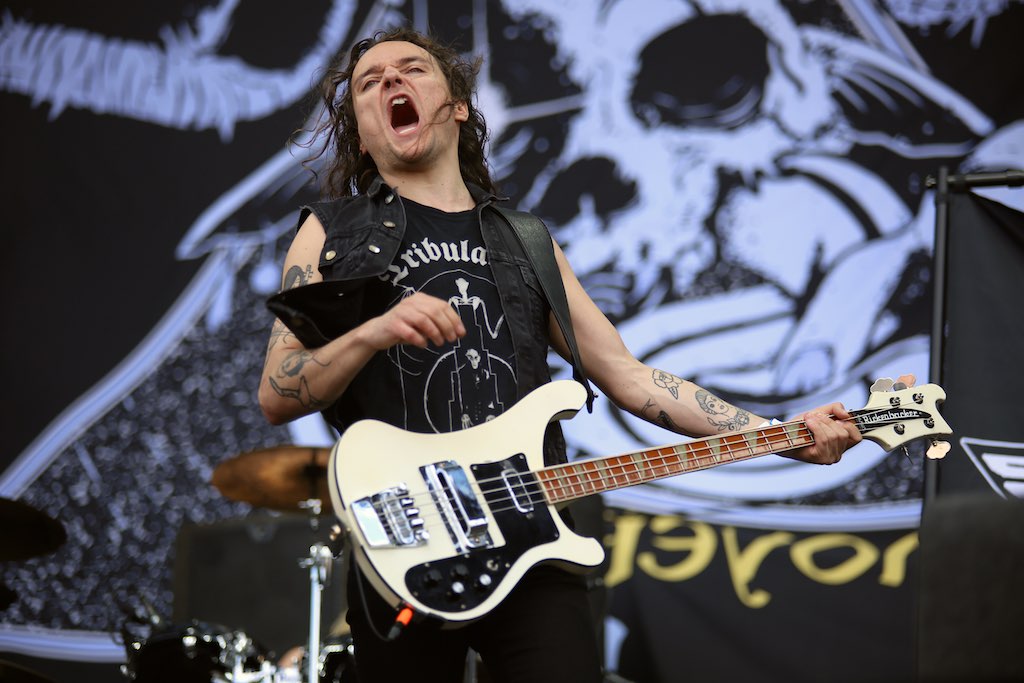 Arriving halfway in the set of
Leprous
was a bit of a let down for me. Their latest effort called
Coal
made a huge impression on me and I was really curious if they could pull it of on stage. Well to be honest I'm not able to answer that question. The fact is that due to the wind the sound was mostly all over the place which is killing for a band like Leprous that has so much details in their music. This of course had also some affect on the audience since most of the people just arrived and were more interested in catching up with each other in stead of the band on stage. What I did see was a band that did everything they could and played their asses off. I certainly do love to see them in a venue. (
Niamen
)
Enforcer
had the honor of opening the mainstage of Fortarock this year. Their latest album called
From Beyond
was released several months ago and of course during this tour the focus lies upon that album. To be honest I was quite sceptic if this band would fit on the huge stage, but during the first couple of tunes '
Destroyer
' they proved me wrong. Although they sometimes looked a bit strange during the first couple of songs they did get some crowd moving which motivated the band even more to play their thrashy 80s hardrock with more fury than they already did. Great show of a great band that is worth checking out. (
Niamen
)
Converge
is one of the reasons why I wanted to attend
Fortarock
in the first place. The band manages to create an intense massive sound based upon their hardcore roots. Their latest album,
All We Love We Leave Behind
, is already a couple years old but is still present in my cd-player from time to time. I do have to admit that
Converge
is a band that doesn't create easy and simple music, which is probably the reason why most of the audience attended the show of Sylosis on the other stage. Those who where present witnessed a band that gave it all during their set. The intensity of their music and stage performance certainly had its effect on the people present and even some good moshing took place. (
Niamen
)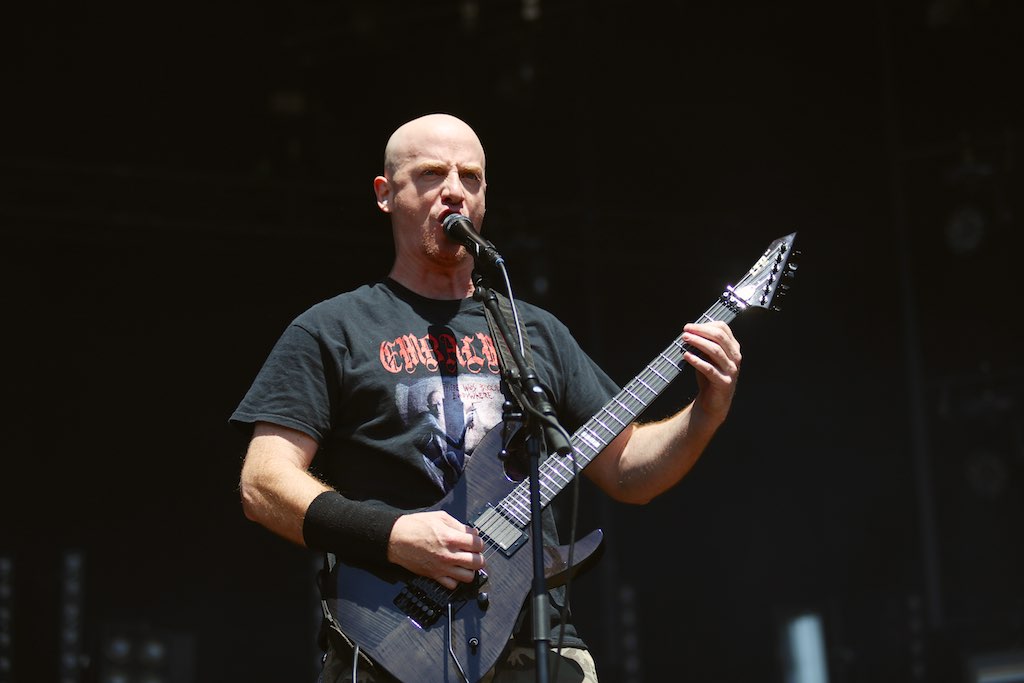 On the main stage it was time for a band probably everyone present knew. In the early 00s songs like '
Awake
' and '
I Stand Alone
' were everywhere around you. On TV, on the radio, you couldn't escape these songs by
Godsmack
and therefore I was looking forward to hearing these tunes live for personally the first time. The setlist contained of a mixture with tracks from their 2014 album
1000hp
and older ones like the previously mentioned. Unfortunately their typical American stadium rock didn't do the trick for the metal fans in The Netherlands. The show was dull and the music a tame. All in all just a boring show to be honest. (
Gilles
)
If there's one band that generated a lot of media attention in the last week before
Fortarock
it's certainly
Dying Fetus
. One of the gynaecologists of the nearby hospital found the name offensive for young parents who have just lost their infant. But enough on this subject, let's talk about the show. After the disappointing sound at the
Leprous
show I was pleased to see the wind decreasing. I was a bit surprised by the huge amount of people that showed op to see these guys. Especially since this years edition of
Fortarock
wasn't very crowded. I don't know if it has something to do with the fact that
Flotsam And Jetsam
were taking the other stage at the same time or the fact that you never can go wrong with
Dying Fetus
. Indeed this show was tight as hell and with a nice overview of their albums they certainly topped my list as one of the better performances today. (
Niamen
)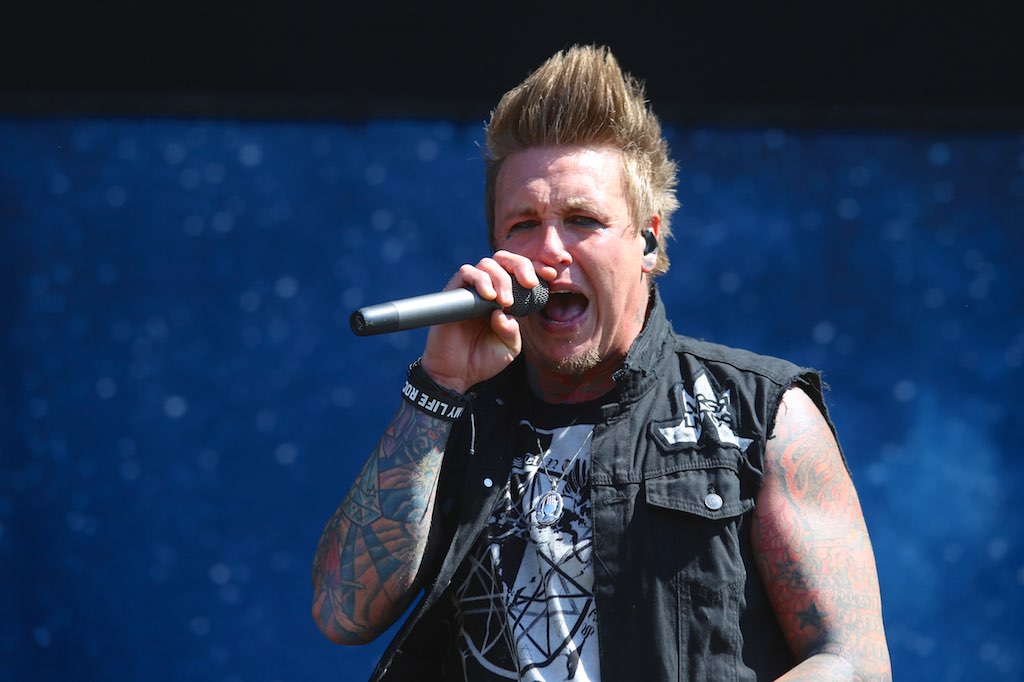 I hope the guys from
Godsmack
stayed at the festival to watch the bands playing next, cause
Papa Roach
for example was showing how to put on an entertaining and energetic show while mixing new music from their recently released record
F.E.A.R.
with classic oldies. Through the years they've incorporated electronics more and more in their sound and this raised some eyebrows right from the start of the intro. People who haven't follow the band's career and just wanted to hear tracks like '
Between Angels And Insects
' and '
Last Resort
' were a bit surprised, but this band still managed to get everyone along. Their music is so damn catchy and the variation between old and new worked out well. Officially due to logistic problems the organisation switched the slots of
Parkway Drive
and
Papa Roach
, but I think it was best for both.
Papa Roach
can perfectly handle a big main stage during the day and I already can say that
Parkway Drive
can close a smaller stage even better. (
Gilles
)
This year there was one major clash for me. I had to choose between
Exodus
and
Red Fang
. Although a lot of people watched
Exodus
taking the stage I witnessed yet another great show of
Red Fang
. It could have been the beer or the music or the clear blue sky or a combination of all this together that I really enjoyed their performance. Let's face it, some good stoner music and a nice cold beer in the sun. A match made in heaven if you'd ask me. Especially when you add the nice show of
Red Fang
. (
Niamen
)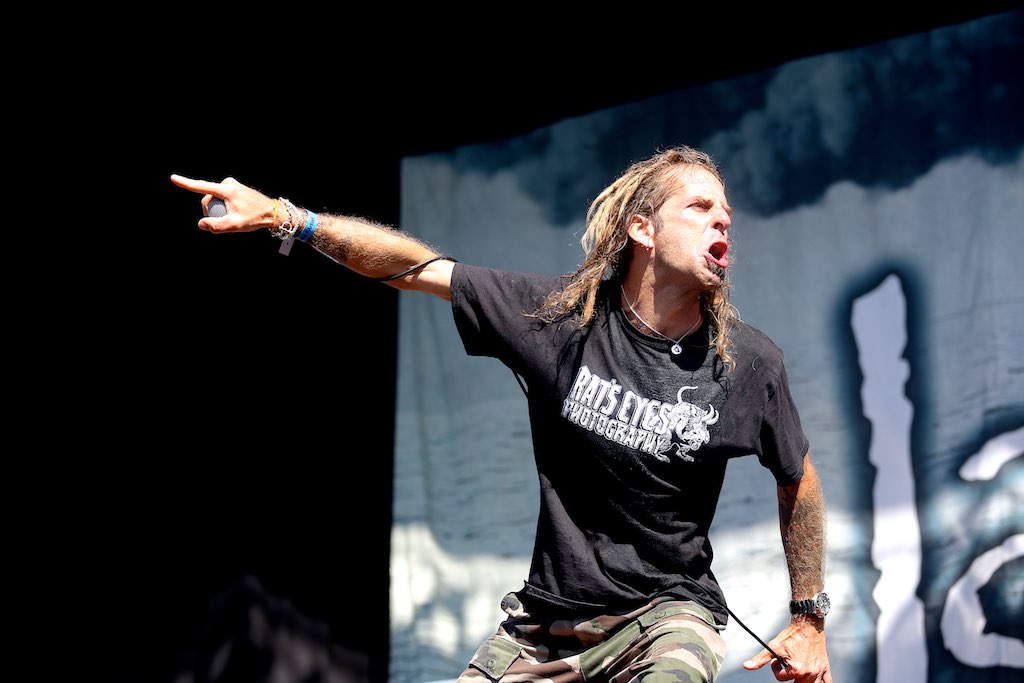 Contrary to my colleague I did go and see
Exodus
tear up the smallest stage of the festival. The ferocious Bay Area thrash metal legends did a great job entertaining the mainly older part of the festival audience. Their main focus lied on their classic release
Bonded By Blood
and their newest record
Blood In, Blood Out
and the audience loved it. Don't expect something really new. They just play the thrash you are used of them and nothing more, but still they stand the test of time. The Jeff Hanneman tribute and shout out to their bandmate
Gary Holt
who couldn't be here due to his commitments with Slayer and the following Slayer riffing completed the show. (
Gilles
)
On the main stage the loudest band of the day was up next;
Lamb Of God
. Loud, heavy and groovy. That's practically all I have to say about
Lamb Of God
's performance. With their charismatic frontman
Randy Blythe
they fired up the crowd and went on a true killing spree. Playing a set that covers their entire career they did a great job entertaining the crowd. After giving a sneak peek of the new records with the song '
Still Echoes
' they really tore down the stage with favourites '
Redneck
' and '
Black Label
'. Even the wind couldn't blow this show. (
Gilles
)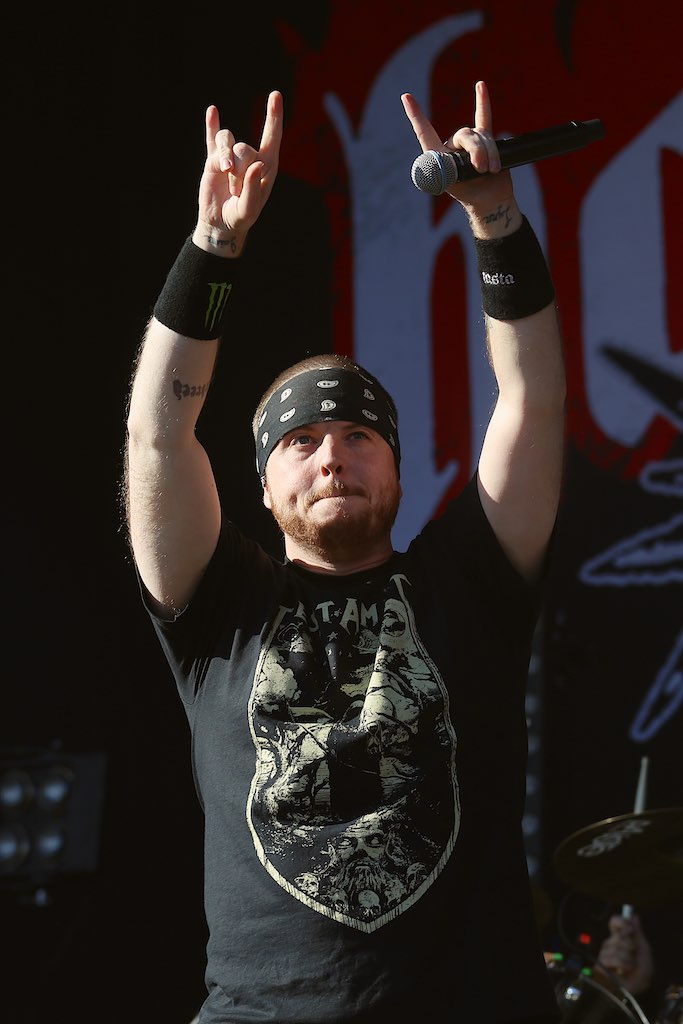 If you want a band that knows how the entertain you'll just have to ask
Jamey Jasta
to show up with his companions from
Hatebreed
. This frontman and this band perfectly know how it works to entertain, to keep the energy level high and the audience going. Jumping, clapping, waving with shirts, towels or any other fabric, it was all incorporated in a show of a band that walks the thin line between metal and hardcore. With just hits and classic songs that everyone could sing along it was once again a very pleasant encounter with this touring beast called
Hatebreed
. A club show gives even more energy, but these guys really know how to get most out of such a performance on an open stage in front of a varied audience. (
Gilles
)
Closing the 2
nd
and 3
rd
stages were
Venom
and
Parkway Drive
. A difficult clash for me, but in the end I went to see
Parkway Drive
and I didn't regret it for a second. Right from the start it was all fireworks with this Australian band, literally and figuratively. This metalcore band mostly appeals to the younger fans and although a big portion of the audience already waited in front of the main stage for headliner
Slipknot
the biggest moshpit was created in front of these Aussies. A tight show, an energetic performance, a good interaction with the crowd; it all came together very harmoniously. They're not just "
hip
", they just fucking kick ass. (
Gilles
)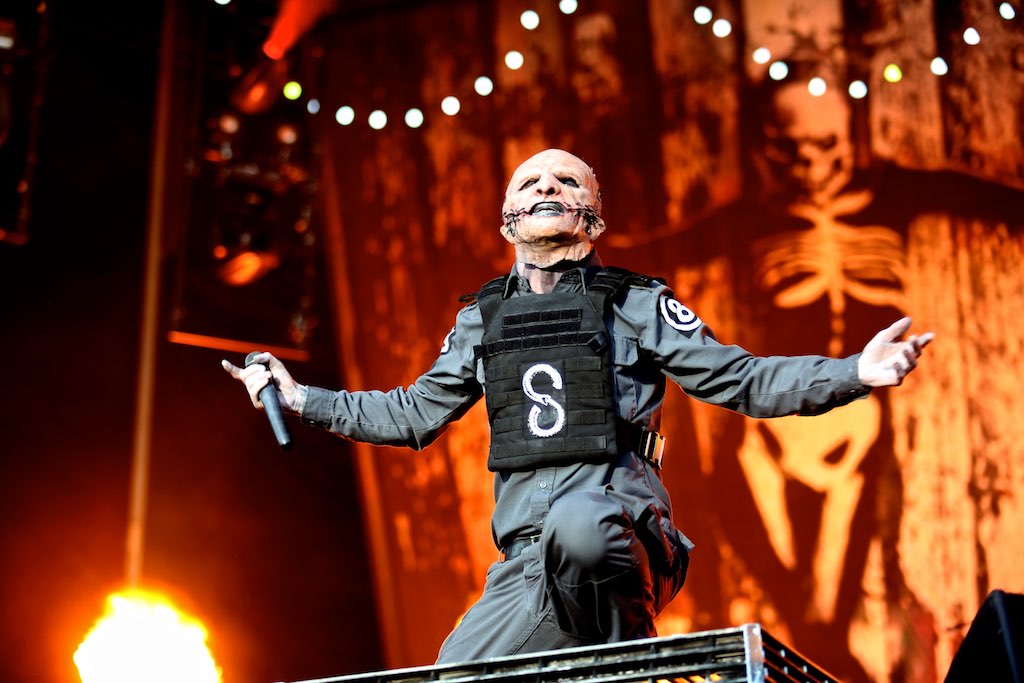 15 years ago I attended the Dynamo festival at the same park where this years edition of
Fortarock
is being held. Back then it was
Slipknot
who made an indelible impression on me. Nowadays they're headlining the entire festival. Although a lot of people didn't think of
Slipknot
as a headliner I have to say that they did pull it off very nicely. The nine headed monster took
Fortarock
by it's balls and didn't let go until the end of the set. With a handful of new songs and of course their biggest hits they scored pretty easily if you'd ask me. The funniest thing about the entire show is probably the adults around me turning into 15 year old kids at the intro of songs like '
Wait And Bleed
' and '
(SIC)
'. (
Niamen
)
More pictures can be found here.