Talvihorros - And it was so
Ben Chatwin
studies the range and capabilities of guitar and electronic sounds. Under the moniker of Talvihorros he brings out his results. Over the years he already brought out a couple of records and with his newest one And it Was So being released now on Denovali while they also release some oldies on vinyl. According to the seven songs it's a good choice because this album is directly in the top range of musicians that experiment with guitar noises, classical instruments and ambient textures.

'Let there be Light' is directly a beast of an opening song. Eleven and half minute of building up layers of guitars and electronics until a drumbeat together with string instruments is adding some rhythm into the sonic explorations. In this field of tension the guitar and electronics explorations are fighting their way towards climaxes while the added instruments from guest musicians (new in contrary to the older releases) giving the music a newer touch of melody.

Listening to
Talvihorros
on this album feels like listening to albums of
Nadja
,
A Winged Victory for the Sullen
and
Godspeed You Black Emperor
at the same time. The other six songs on the album are compacter ones compared to the first song but definitely have the same impact and depths as the opening ones. It shows that
Ben Chatwin
not only needs more than ten minutes to get to the point of his sound collages. It keeps the album fresh and after 47 minutes you are begging for more dark musical adventures.
Let's see what the future will bring when more beautiful haunting places are revealed from
Talvihorros
. Until now it is totally recommended to pick up the seven songs on mp3, CD or vinyl if you are fan of experimental groups somewhere in between guitar improvisations, ambient and neo-classical groups.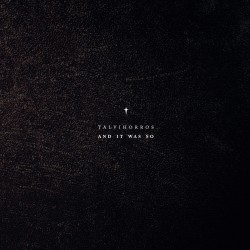 85

/

100

1
Details
Denovali
Released on Friday Nov 23rd, 2012
Ambient / Noise / Drone
Writer
@Maurosis
on Tuesday Jan 22nd, 2013
Tags:
#talvihorros
#denovali
Tracklisting
1.Let There Be Light
2. In The Midst Of The Waters
3. The Two Great Lights
4. Swarms of Living Souls
5. Creeping Things
6. Great Sea Monsters
7. A Mist Went Up
Line up
Ben Chatwin - All Instruments