Havok - Point Of No Return
My brain spun of excitement. A new
Havok
album? So soon after that thrash gem Time Is Up? No way! Technically it's just a EP, so not really a full album, but every new output of
Havok
is something to get excited about.
Normally I save the conclusion for last, but I make an exception this time.
Havok
brings us again some excellent thrash metal songs; two of their own and two covers. The two own songs could easily being put on Time Is Up, perhaps the tempo is a bit slower than the average song on Time Is Up, but that's the only thing. Well crafted, easy to bang your head to thrash metal. Again some contagious riffs, which make you put these songs on repeat (of course also because this EP consist out of just four songs and my average shower is longer than 20 minutes!) to hear them again.
The two covers are nice.
Havok
didn't change the originals a lot, although the guitar tones on
´Postmortem/Rain In Blood'
are a bit more sparkling than the original. Of course this could also be the case, because of the newer production methods. They kept very close to the original version of
'Arise'
, but I don't mind. In my opinion
'Arise'
is one of the best thrash metal anthems every written and you can't have enough good versions of an excellent song.
Of course you can ask yourself, if it's really necessary to release a four track EP after a 2011 release. Personally I think this is something we will see more and more often due to the downloading era and people wanting to hear more and more new stuff. I don't know if it's a good thing, but I do know that these are high quality songs. Due to the fact that this EP only has two original I won't give it any points, but it's highly recommended!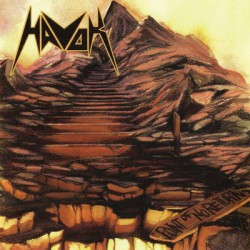 Tracklisting
1. Point Of No Return
2. Cradle To The Grave
3. Arise
4. Postmortem/Rain In Blood
Line up
David Sanchez – Vocals, Guitars
Reece Scruggs – Guitars, Backing vocals
Jesse de los Santos – Bass, Backing vocals
Pete Webber - Drums