Off With Their Heads - Home
The US based band
Off With Their Heads
releases their third full length. For me a total unknown band up to now, but Wikipedia learns that next to the three full lengths they released 22 other EPs or Split singles. Quite the busy band so it learns!
Off With Their Heads
is signed by the quite prestigious punk label Epitaph. Epitaph has a long history with all kind of great releases and successful bands on its roster. Being signed by Epitaph was a quality stamp for punk releases in the past, but since punk isn't the daily kind of music that I'm listening too and I haven't paid a lot of attention to the label as a direct result, I don't have a clue if this is still the case nowadays.
To cut a long story short the guys in
Off With Their Heads
have quite surprised me with this output. I loved the Eastside of Nowhere album of Far From Finished and I see some resemblances with this album, especially at the start with the up tempo songs
'Start Walking'
,
'Shirts'
and
'Nightlife'
. A very good beginning and an introduction to a talented punk band.
Ryan
has a nice harsh but understandable voice and the songs are simple but contagious. Nothing fancy, but
Off With Their Heads
know how to write a focused punk song.
After 'Focus On Your Family' I was afraid that the freshness of the songs was gone already, since this song sound quite a bit like 'Nightlife'. Even some vocal lines and rhythms are the same. Now I understand that punk isn't the most innovative genre of choice (energy and attitude are more important), but that seemingly the inspiration was gone after four songs is a bit weird. They were better off to put one of those songs a few tracks later on the disc.
Luckily
'Altar Boy'
and
'Don't Make Me Go'
prove me wrong. The tempo changes and it goes more into mid tempo territory.
Ryan
also uses a different vocal style on
'Don't Make Me Go'
which almost gives me the feeling that I am listening to a (a good one mind you!) song of Blink 182. It shows his flexibility and it's too bad that he doesn't show it off more frequently. For me
'Don't Make Me Go'
is one of the high notes of the album and I think that it'll make a very good last song of gigs.
Off With Their Heads
doesn't reinvent the genre, but shows a lot of energy and decent song crafting skills so that I really enjoyed this release and it's highly recommended for people who like punk to pick this one up! It seems that after so many years Epitaph has still an ear for talented bands!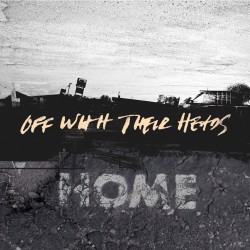 Tracklisting
1. Start Walking
2. Shirts
3. Nightlife
4. Focus On Your Family
5. Altar Boy
6. Don't Make Me Go
7. Come Find Me
8. Janie
9. Seek Advice Elsewhere
10. Always Alone
11. Stolen Away
12. Take Me Out
Line up
Ryan Young – Vocals, Guitars
Robbie Swartwood – Bass
Justin Francis - Drums