Ascetic: - Self Initiation
The begin phase of Post Punk and New Wave in the late Seventies/ beginning of the Eighties is still an important phase in the musical industry. Bands like Swans, Dead Can Dance, The Cure and Joy Division are still popular, now maybe even more than in that time phase. Ascetic: is from Down Under and has that time in music as their biggest influence. Self Initiation as the title says is not a shameless copy but is totally breathing its own air.
They've transferred the sound from the old kings to this timeframe without forgetting the cold pulsating rhythms (with real and electronics drums) combined with a warm and dark voice. 'Pharmacy' and 'We Are Not Dead' starts directly in the right atmosphere but the third one 'I Burn' gives you hair raising moments. The guitar melody captures the somber mood this music is known for. Another highlight is 'Uroboros (Up From Eden)' where the singer is showing his anger; you truly hear the blood, sweat and tears on this record.
Sometimes the somberness and no future idea in music can be so great. Self Initiation has it from the beginning to the end. The individual songs have the right hooks and nowhere the repeating rhythms start to bore you. The guitar strums that function as intro or that bridge the normal melodies set the right tone in order to fill the right mood. The artwork from Brent Stegeman and August Shipper are abstract drawings of a human body in decay; the perfect symbolization of Ascetic:'s first record.
Ascetic:
is on tour with Heirs from the end of March until the beginning of May. Catch them if you don't want to stand in a big hall catching this popular tunes but go into a subconscious state in a small venue with other fanatics around you.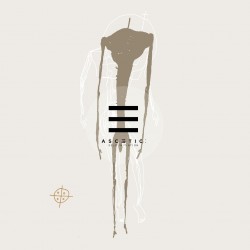 Tracklisting
1. Pharmacy
2. We Are Not All Dead
3. I Burn
4. Religion
5. Trankasham
6. Before The Storm
7. Uroboros (Up From Eden)
8. A Day In The Fields
9. Silver Circle
Line up
Saxon Jorgensen
August Shipper
Vijny Singh