King Parrot - Bite Your Head Off
King Parrot
is a band whose name is fast on the rise at the moment. Hailing from Melbourne, Australia, the band in a seemingly a short space of time have gone from relative obscurity outside of the underground metal scene, to supporting both local and international heavyweights, including Cattle Decapitation, Psycroptic, Obituary and Thy Art is Murder to name a few
.
The opening track
'Bozo'
immediately demonstrates what
King Parrot
is all about, the song is equal parts razor sharp and intense, a perfect blend of grind, thrash and death metal. The vocals delivered from front man
Youngy
contain a certain Aussie twang, but at the same time are just plain throat ripping scary. What may be the most surprising is despite the intensity in the vocal department, the lyrics also remain somewhat coherent.
The first single 'Shit on the Liver' is certain highlight, much like the other songs on the album, it's intense from start to finish, but also contains a hell of a groove to it in certain sections. Special mention must also go to the video clip for this track. I won't spoil the plot line of it, but this hilariously made video is definitely worth checking out, even if you're not exactly a fan of the band.
The bands style is quite hard to peg down, they certainly do have sections that hold noticeable grindcore influences, but at the same time amid all the frenzied guitars and blast beats there is a very nice underlying groove to a majority of tracks on the album, songs like 'Silly Ol Mate', 'No Coincidence' and the title track 'Bite Your Head Off' are perfect examples of this.
Bite Your Head Off is definitely an appropriate album title for this debut album too, as it does exactly that, aiming directly for the listener's jugular. The release while only clocking in at a mere 23 minutes, rarely offers any respite from the full on aural assault and is certainly not for the faint of heart.

The success this band is currently experiencing, as mentioned in the opening paragraph is by no means undeserved,
King Parrot
has more than paid their dues on the road, spending the last few years on the road. Armed with a killer live show and debut album that is receiving rave reviews (including from this reviewer) there is no doubt a bright future for this band. They have also just recently inked a worldwide record deal with Candlelight records, so it's only a matter of time before the rest of the world catches on to this band too!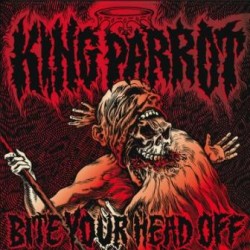 Tracklisting
1. Bozo
2. No Coincidence
3. Shit on the Liver
4. Bite Your Head Off
5. Dead End
6. Blaze in the Northern Suburbs
7. Lizard
8. Silly Ol' Mate
9. Sun in the Sea
10. Cold Steel Probe
11. Sandy
Line up
Youngy - vox
Mr. White - guitars
Slatts Slattz - bass
Squiz – guitars