ROADRUNNER UNITED – THE ALL-STAR SESSIONS, 55 ARTISTS, 45 BANDS, 19 TRACKS, 4 CAPTAINS…
Roadrunner Records has put together a groundbreaking record to mark the label's 25th anniversary. The group is called Roadrunner United and the album title The All-Star Sessions. This full-length release, in stores on October 10th/11th 2005, is a 'master-class' in hard rock / metal. Boasting 55 artists from 45 of Roadrunner's past and present bands, the album will contain original tracks that are collaborations between numerous Roadrunner stars.
Four central musicians were chosen to produce and write the songs: Joey Jordison (Slipknot/Murderdolls), Dino Cazares (ex-Fear Factory/Brujeria), Robert Flynn (Machine Head) and Matt Heafy (Trivium). These four musicians play on the songs they have written and have also assembled a unique team of artists to appear on each track. In order to cover as wide a spectrum as possible, no musician has played for more than one writer/producer and each song features a different vocalist. In addition to these stellar teams of musicians, there will also be special additional tracks from ex-Roadrunner artist Josh Silver - Type O Negative longtime producer / keyboardist. In the spirit of the project, Silver has included Roadrunner artists on his tracks as well…
Most of you might already know this incredible good concept of Roadrunner Records. And, of course it's an honor for me to review this great album. Although I heard a few tracks of this album before, I didn't have any clue what to expect of this album.
And to be honest, I still haven't got the slightest idea of how to review this album in a good way. Even when you listened to it a thousand times it's hard to make a fair review I believe. Why? Because this isn't just a compilation, it's an album with only new and original tracks that vary a lot. From death metal to more metalcore-ish songs to a true ballad song. It's just all there. And there's so many great artists on it that that I can only sit back, listen, nod my head and grin from ear to ear.
And no, of course not every song is that great, but the thought of having this incredible great concept album in my possession is already worth a big smile. I hear a wide range of my favorite vocalists passing by and when for example Mark Hunter (Chimaira) kicks in on the second track I totally get the powerful Chimaira feeling in my body. The nice thing of it is, when I hear Max Cavalera, I get that typical Soulfly feeling. There's just so many feelings that this album bring to you, that I can only recommend you to buy this album immediately. Don't even think of downloading it, this one is unique ladies and gentlemen. Not only now, but also in the future.
And for those of you buying this album, along with the album you'll get a DVD as well. The DVD contains over one hour of recording session footage and other stuff.
I have the feeling I'll never finish this review in a fair way because I simple can't. This album is an album you gotta hear for yourself. Buy it, sit back, bang your head, smile, break down the house and feel the Roadrunner United vibe.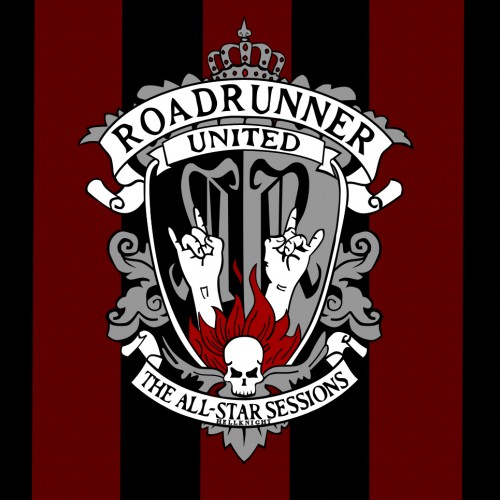 Tracklisting
1. The Dagger (5:32)
2. The Enemy (4:45)
3. Annihilation By The Hands Of God (5:34)
4. In The Fire (4:08)
5. The End (3:36)
6. Tired N' Lonely (3:38)
7. Independent (voice Of The Voiceless) (4:52)
8. Dawn Of A Golden Age (4:10)
9. The Rich Man (6:50)
10. No Way Out (3:27)
11. Baptized In The Redemption (3:20)
12. Roads (2:25)
13. Blood&Flames (5:39)
14. Constitution Down (5:05)
15. I Don't Wanna Be (a Superhero) (2:03)
16. Army Of The Sun (3:49)
17. No Mas Control (3:02)
18. Enemy Of The State (5:09)