Olde York - Shallow World
Hardcore has always proven to be an excellent choice of music after a lousy day at the office, standing still for ages in terrible traffic or just during a gruesome workout to get that motivation pumping. I especially have a soft spot for the old school NYHC sound. Bands like Sick Of It All, Madball and Biohazard are a few of my favourite hardcore bands of all time. Unfortunately this sound has faded away a bit with new bands rather playing a thrash/hardcore hybrid.
Olde York
shows us that this type of hardcore is not dead at all. With
'Peeling Paint'
they kick off in a Sick Of It All-like. Very energetic and well-written opener which instantly grabbed my attention.
'The Hatred You Spread'
starts with a very familiar drum rhythm. Make War Not Love of Pro Pain is the song that popped in my head. It's only the intro though that's reminiscent to this song.
Throughout the album I heard all these kind of references popping up. The sing-alongs in
'On And On'
made me think of The Subways (though way heavier) and
the chorus of
'Once'
had some resemblances of a heavy Dog Eat Dog song (All Boro Kings period). This could be taken as something bad, but because
Olde York
just incorporates it into their own sound it's no problem at all. The variety on the album is by the way quite high, which is nice to see on a hardcore album. High voltage songs like
'Peeling Paint'
are there to keep the blood pumping, but there's also place for some mid-tempo almost introspective songs like
'Shallow World'
.
The guys made a nice album. I don't foresee this to become a classic like some of the albums of the bands named in the intro, but it's a good album nonetheless. There's only one thing that I really miss and that is a few signature tracks that defines the album. Now we are dealing with a collection of good but not great songs. In that department there's still enough room for improvement. For now
Olde York
is a band that hardcore fans need to keep their eyes on.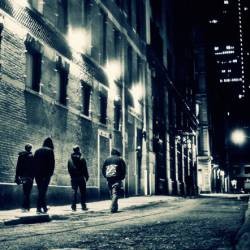 Tracklisting
1. Peeling Paint
2. The Hatred You Spread
3. Entropy
4. Fall Of Man
5. On And On
6. Once
7. Liars
8. Shallow World
9. Front Line
10. Hard To Recognize
11. Blood On Our Hands
Line up
Ted Wohlsen - Vocals
Blake Farber – Guitars
Mike Kaufman – Bass
Devon Farber - Drums