Telepathy
formed in 2011 and released their first EP in 2012. From the UK they directly took the boat to the mainland for a European tour. Fast forward to 2014; the full length 12 Areas is available and a fall tour is up next with also a show on the Dutch Incubate festival. With artwork from Alex CF (from Lightbearer and Fall of Efrafa) expectations are set high.

The label describes the music as a progressive Sludge/Post Metal album; the term Sludge is pretty popular nowadays with bands like
Eyehategod
and
Iron Monkey
. The term is all about a dirty, filthy and slower version of Hardcore/Death Metal so I don't understand the marking progressive Sludge nor I hear Sludge on this instrumental record. What I hear is indeed atmospheric Post Metal with some technical and dissonant parts. Is it good, you ask?
Sort of but it never matches the expectations and mainly because of the song writing. The songs lack the groove, it's merely cut and paste and trying to put as many ideas in one song. The drummer is talented but he's too much in front of the mix and doesn't understand the expression 'less is more'. Most of the time there are too many drum fills if he constantly has to prove himself or thinks he's must play a drum solo.

When we put this aside we see a band that really wants to strive forward and combining crushing moments with ambient interferes. I hear what the band is trying to achieve, they halfway fail with their intentions. What's left is a difficult album with some heavy parts that will kick ass in a sea of sonic reverb, ambient and dissonant build ups. My urge to listen to the later albums of
Russian Circles
or
Old Man Gloom
prevents me from listening to
12 Areas
again.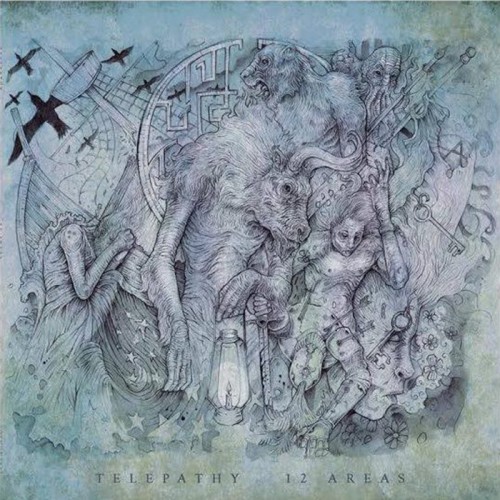 Tracklisting
1.{Hypnos}
2.Saccade
3.Cystine Knot
4.Sleepwalker
5.Breath/Motion
6.{Deluge}
7.To Kiss the Oceans Floor
Line up
Piotr Turek - Guitars, Synths
Albert Turek - Bass Guitar
Richard Powley - Drums
Krystian Turek - Guitars, Synth