Sheik Anorak">Sheik Anorak; the name sounds like a musician playing Eastern belly dance music. The multi-instrumentalist Frank Garcia (known from the experimental Black Metal band Neige Morte) is handling drums, guitar, bass and vocals all together. With a shitload of effect pedals he is also doing the trick alone at a live show. I hope for him in the studio he doesn't have to do it all together. On his latest album "Keep Your Hands Low" he got help from vocalist Mathilde Spiry in the title track and 'Tomorrow Never Knows'.
Directly in 'Keep your hands Low' the one man band is opening strong as fuck in a Hot Snakes Punk Rock tradition the band from San Diego wished to have written the song. This one is rocking as hard as a suburb from Lyon (where Garcia lives) and is as sexy as a belly dancer. The clear female vocals of Spiry are even spicing up the song more.
The album is continuing in an experimental mode; the avant garde ghost of …And You'll know us from the Trail of dead is roaming in the next slab of songs. Noisy feedback in the end of "Blood…" while "…and what we've left behind" suffers from stiff drums rumbles; too bad because the melancholic guitar melodies need tight and groovy drumbeats.
This approach continues in "Stuck in Here" where the stiff drums are drenched in layers of noise. Slowly my attention is driven away because the musical pattern repeats itself in "MLMS" including the same guitar riffs and song structures. It would be a wise decision for Garcia to leave the drum parts to someone else and concentrate on song writing and playing guitar.
"Tomorrow Never Knows" has slightly a shoegaze edge with the vocals of Spiry; the song ends in experimental chaos and leads nowhere to. Despite the album is only half an hour long I am happy only the outro is left. The drive in the title song set the expectations high; unfortunately Sheik Anorak never reached that potential in the rest of the songs.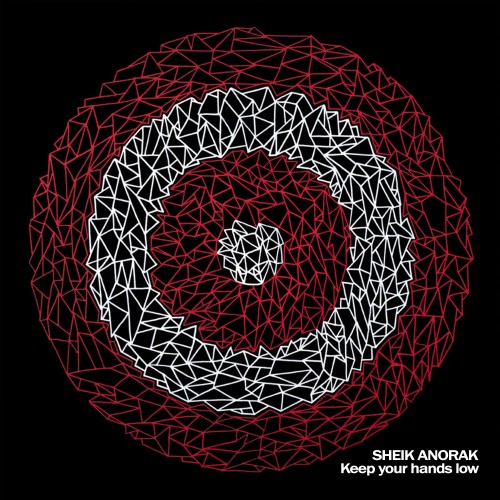 Tracklisting
1.Keep Your Hands Low
2.The Summit
3.Blood...
4....and what we've left behind
5.Stuck in Here
6.MLMS
7.Tomorrow never knows
8.Outro
Line up
Frank Garcia - Drums, Guitar, Bass & Vocals
Mathilde Spiry - Vocals on 1. & 7.