After an intense first day and a heavy breakfast with eggs and bacon we were ready for the second day on planet Roadburn. The Friday was curated by Opeth's very own Mikael Åkerfeldt and he brought some special guest to the festival. One may thought it all was a bit too proggy, while the other was enjoying the maybe once in a lifetime moments.
All pictures by Paul Verhagen (Achrome Moments) - http://www.achromemoments.nl/


FRIDAY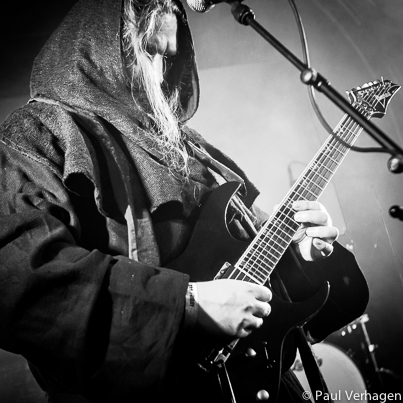 Today we had the change to wake up with Tyranny, a cult Finnish funeral doom band. From what I knew, they only performed one show before Roadburn ever. So it was obvious that a lot of people wanting to check out this band on this unique second show. Tyranny is basically a two-man band with (ex-) members of Corpsessed and Wormphlegh. In a live-situation the band was a five piece. The whole band came on stage in black and red ropes. From the very first riff, it was obvious that this would be a slow, slow gig. The sound was actually really clear and bright, but the riffs oozed like thick syrup out of the speakers. Outside it was a sunny, bright day, but inside Het Patronaat, Tyranny created an own dark, doomy world. The setlist contained a lot of songs from their debut Tides of Awakening, but they also played some tunes from their EP. The sound was absolutely brutal, doomy and heavy, sometimes almost like drone. Also cool to see the band playing with a standing bass-guitar. A very dark and bleak beginning on the Friday. (RM)

The first band to play the main stage,
Magma
, immediately set the bar high. The experimental jazz-prog with "
made up language
" vocals was part Zappa, part Mahavishnu and at times even sounded like a proto Pain Of Salvation. I wouldn't be surprised if Mr. Gildenlow (Pain of Salvation) was at least a bit inspired by them. Excellent musicianship and an almost overdose of odd time signatures made it a very enjoyable albeit a little exhausting start of the day. (
LV
)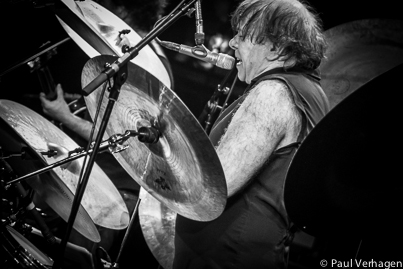 While in between songs at the
Magma
show we heard some Pantera like riffs coming from Stage01. While walking towards these sweet sounding tunes we arrived in a packed hallway with no way to even see the band from a distance. Smart as we are we decided to try the other entrance and we once again ended up in the hallway. Nonetheless it all begins with the music. And we started to hear more genres within this Icelandic act. Every now and then they just have some extremely catchy Pantera like riffs and solos but overall it is a bluesy like hard rock which is extremely addictive. It just makes you move along. Lucky us, when standing in the hallway reading the program we noticed the band playing was
The Vintage Caravan
and they would play again on Saturday! Lucky us. (
TK
)
Besides the many prog bands today we were also treated with a shitload of different kind of jam sessions. I myself started with checking out
Harsh Toke
(who would play 3 different sets this edition) featuring Patti Smith's long time guitarist
Lenny Kaye
. The psychedelic jam we received was one that blew us away. Occasionally
Kaye
took the microphone the sing about a good smoke or a rollercoaster ride and man did he take us on a trip. With a solid, grooving foundation of
Harsh Toke
,
Kaye
added that extra touch it needed. (
GG
)
A lot of gossip was going on about
The Body
. Also during Roadburn itself, a lot of people talked about this band, just as on the internet the months before the festival. So no surprise Het Patronaat was packed, with even a big line outside to get in. I myself was skeptic, since I really do not know what I like about their records. This two-piece noise/sludge band opened their set with an enormous volume in cacophonic noise and some riffs. When I say enormous volume, I mean enormous! The sound was absolutely out of the planet so loud. Even with earplugs in my ears it hurt! You can imagine the impact due to the sheer volume was immense, but I really couldn't divine any songs, just like on the records. To me it sounds like a cacophonous wall of noise, sludge riffs and a screeching singer, that doesn't even screams words into the mic. Nope, not worth the buzz… (
RM
)
After a nice hamburger in the weirdo canyon, the strip of bars, cafes and restaurants just around the corner of the 013 venue, I was feeling a little after-dinner dip kicking in. Therefore I decided to not watch a band in this state of mind, but to descend to the basement of the V39, right across the main entrance of the 013, where they'd set up a big screen and where they were played some documentaries in cooperation with
Noisey
/
Vice
. I watched for example the
One Man Metal
documentary about three black metal solo artists:
Leviathan
,
Striborg
and
Xasthur
. Very interesting stuff to watch! Furthermore there were some screenings of the not so serious side of metal:
Weedeater
reviewing cough medicine and cheese,
Wino
being interviewed by a 10-year old and the hilarious short documentary about the extraordinary
Guy Tavares
.
Must watch, click here
! (
GG
)
Apparently there are two reincarnations of the Italian horror-score/soundtrack masters
Goblin
. On my birthday in March I got a new LP of
Goblin
. It was of the new
Goblin
, doing re-recorded versions of their classic tunes of
Susperia, Demonia,
etc. I personally though it was a piece of shit, because the re-recorded songs sounded absolutely weak compared to the originals of the 70's. So with a lot of skepticism I went to see the
Goblin
show. Oh my, am I glad I know now, that
Claudio Simonetti's
(the synthesizer wizard of
Goblin
) has his own reincarnation! We absolutely got treated on an amazing show of this band. The set list was filled with brilliant versions of soundtracks of
Zombi (dawn of the dead), Susperia, Demonia, Phenomea
and
Profondo Rosso.
It was great to see so many people stayed and enjoyed these classic tunes. In front of the stage there was even a dance competition going on, with loads of people dancing on the gloomy synthesizer tunes of
Claudio
. Goddamn never been so glad I was wrong and that I saw the good version of
Goblin
! Amazing show. (
RM
)
Being without a bass player when we entered Het Patronaat,
Procession
sounded a bit empty at first but apparently there were some technical difficulties, because almost 1 song further the bassist suddenly reappeared and all of a sudden it all clicked into place. Sounding like Rob Flynn's (Machine Head) doom side project,
Procession
put the true metal into their doom today with some epic fist pump moments during '
To Reap Heavens Apart
'. Highly entertaining. (
LV
)
Having a little bit of time to kill before Candlemass we entered the Green Room where we got treated to some Ian Gillan-esque vocals but a bit 'meh' old proggy rock. The longer we stay the better it got though and the fun this band obviously has is very infectious. Their encore suddenly sounded almost Police-ish but that could also be due to the beers. (
LV
)
Candlemass
is currently celebrating the 25th anniversary of its third album
Ancient Dreams
. In its honor they played the whole album tonight, just as they did with
Epicus Doomicus Metallicus
back in 2011. This time with
Mats Levén
(Therion ) as lead vocalist and the extra addition of
Per Wiberg
(Opeth, Spiritual Beggars) of keyboards. The band was also joined by
Nemtheanga
(Primordial) to make the night extra-special. Maybe it doesn't sound as the logical combination, but it just made the performance it bit more special. As an encore they also played '
Solitude
' to make it complete. (
GG
)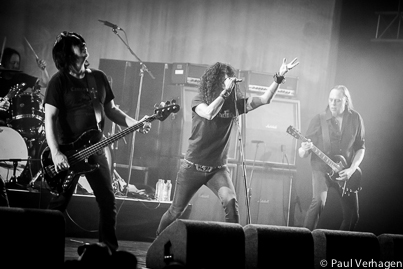 A jam-packed Green Room witnesses the old-school death metal onslaught of
Obliteration
. The band is tight as hell and has some killer songs, but somehow sounds a little less dirty and unique than on record. The soundman did his job too well I guess, but highly enjoyable nonetheless. (
LV
)
The act I was personally really looking forward to was
Opeth
. Leader of the band
Mikael Åkerfeldt
was curating the second day of Roadburn 2014 as you know, but for me personally it was all about Opeth, hoping they could deliver. The last time seeing them play 013 was during the
Heritage
tour and I could really use some more heavy stuff this time around. And lucky me I got a great set packed with several songs I was hoping for. Starting with '
The Devil's Orchid
' I was afraid the band would redo the
Heritage
show but straight after they started playing '
Ghost of Perdition
' and I knew this was going to be a good night. In between songs
Mikael
is known for his extremely simple and yet effective jokes. Today he seemed not really in the mood for this, but he did thank everybody for being there and asked them what they thought about his choices. The reaction was mixed. The band then continued with '
White Cluster
', '
Hope Leaves
', '
Atonement
' and '
Heir Apparent
'. Then they played the almost epic song '
Deliverance
' and ended with '
The Lines in My Hand
' and '
Blackwater Park
'. The band will be releasing their new album in June of this year and I can't wait. (
TK
)